PlayMakers (Keeping You) Company
Only Intermission
The magic of live theatre is its ability to bring together people from all walks of life in order to experience beautiful stories as a community. Until we are safely able to gather again, we have created PlayMakers (keeping you) Company, an online series of artist conversations, master classes, and yes, eventually, performances. Questions? Read more…
I am proud to be a part not only of one of the great flagship regional theatres in the country, but also of the professional theatre in residence at UNC-Chapel Hill, the People's University. As we all learn what is safe and possible moving forward, PlayMakers will be making real-time adjustments to our programming. Meanwhile, our commitment to create transformational impact in our community through theatre… continue transcript
Donate Today
Stuck Monologues
We commissioned a series of monologues in the theme of "stuck" from local playwrights! Company members past and present stepped up to the plate and knocked home a dozen stellar monologues.
Welcome to the Stuck Monologues!
"Starter" by Jacqueline E. Lawton
starring Kathryn Hunter-Williams

Virtually, Viv
Bi-weekly chats between Producing Artistic Director Vivienne Benesch theatre artists from across the industry, both nationally and closer to home.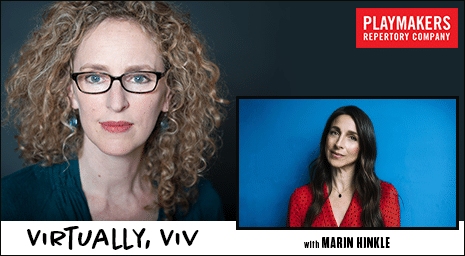 Aug 7, 7:30p—
Viv chats with her dear friend, two-time Emmy-nominee and your favorite Jewish mother,
Marin Hinkle.

Episode 4 Viv chats it up with one of our favorite local playwrights: Mike Wiley!


Episode 3 Featuring award-winning actor of stage & screen, UNC alum Billy Crudup.

Episode 2 Viv sits down with artist, activist, father, and UNC alum, Sonny Kelly of The Talk and a SURPRISE GUEST!

Think Like an Actor
Take monthly acting classes from beloved company member Ray Dooley. Early classes will focus on Shakespeare's Hamlet.

"To Be or Not to Be," Monday, April 20. In this first Think Like an Actor Ray takes a deep dive into Shakespeare's most famous speech.

"Get Thee to a Nunnery," Monday, June 22. Ray Dooley teaches you how to approach a complex scene like an actor might.

I Am A PlayMaker
More from PlayMakers