Help kick off PlayMakers' 2018/19 Season!
This August, we're throwing our doors wide open to welcome subscribers, friends, and strangers into the Joan H. Gillings Center for Dramatic Art! Be the first to celebrate our new season of #TheatreThatMoves with food, fun, and entertainment!
August 18 • 10:00am-2:00pm
Food Trucks • Exclusive backstage & insider tours • Meet the actors • Interactive activities • Live music • Kids' Workshops
Schedule of Events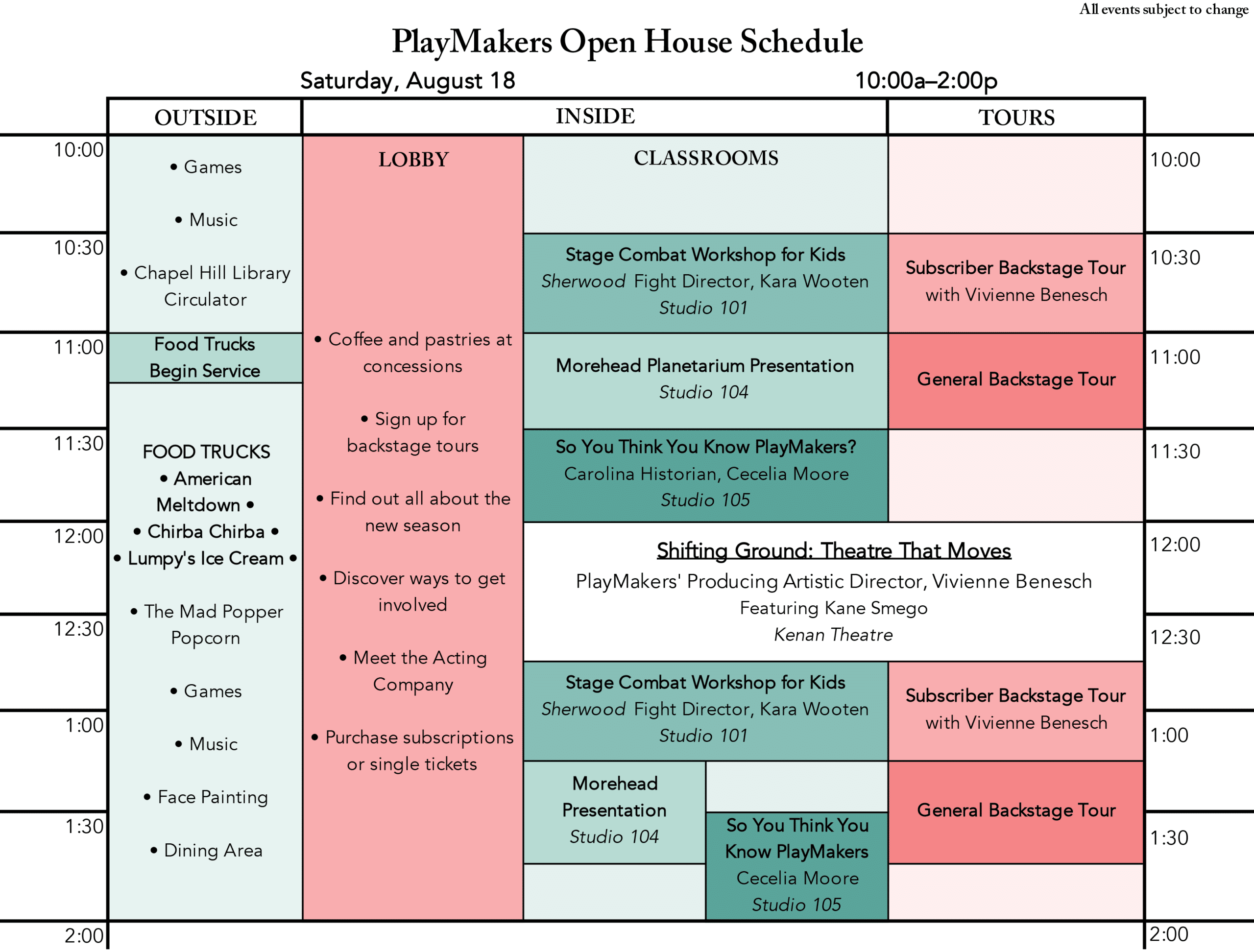 Click image to expand or download the PDF
Descriptions of each event coming soon!
Parking Options
Please note that this is a very busy weekend on campus and the University has allotted us the minimal parking you see below. As you make your plans to attend, remember that Chapel Hill Transit is free, with the A, U, NU, RU, G, FG, and V stopping nearby.
Cobb Parking Deck: 75 spaces reserved for PlayMakers Season Subscribers on levels 3–5. Levels 1–2 are reserved for student move-in. This is the closest parking deck, located behind the Joan H. Gillings Center for Dramatic Art with access from Paul Green Drive or Cobb Drive.
School of Government Parking Deck: 130 spaces reserved in a deck close to PlayMakers just across South Rd. Access from South Road.
Street Parking along Country Club Road: 14 spaces reserved on Country Club Road immediately in front of PlayMakers. Right beside the food trucks!
Handicapped Parking: There are 2 spaces reserved on the first floor of the Cobb Deck and 5 spaces along Paul Green Drive.