About PlayMakers Ground Floor
Studio Productions from the Professional Actor Training Program
At the heart of every theatrical production, regardless of scope, are the artists who posit questions about the human experience. PlayMakers Ground Floor is an occasional series that engages our graduate acting company in material chosen (and sometimes written) specifically for them. These studio productions focus on the actors and the marrow of their process, and are led by insightful and resourceful directors from within the company or those visiting on fellowships.
---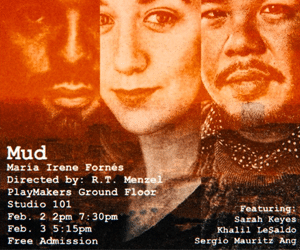 Mud
by Maria Irene Fornes
Directed by Ron Menzel
Sunday, February 2 at 2:00 and 7:30
Monday, February 3 at 5:15
Joan H. Gillings Center for Dramatic Art, Studio 101
FREE ADMISSION. NO TICKETS REQUIRED.
Featuring MFA candidates in UNC-Chapel Hill's Professional Actor Training Program: Sergio Mauritz Ang as Lloyd, Sarah Elizabeth Keyes as Mae, and Khalil LeSaldo as Henry
Hopeful, hard-working Mae lives in bleak rural poverty, but she is going to school, and plans to better her life through the refined magic of reading and arithmetic. Lloyd, who lives with Mae, spends his time caring a little too much for the farm animals; he scorns to learn from a book, and treats Mae with angry disrespect. When Lloyd becomes ill, Mae goes searching for a diagnosis, and brings their simple, yet eloquent, neighbor Henry home with her, in order to help her read the difficult medical language. The ensuing love / hate triangle that brews between the three creates a toxic environment, and Mae, whose love and respect for Henry turn to impatience and resentment after an accident renders him helpless, determines that to escape the ill-luck of her life, she must escape the men who depend upon her. In Mud, Maria Irene Fornes has created a stark and uncompromising drama, in which self-improvement is a wistful, far-off goal, and the bleak nature of everyday life is impossible to escape, in the end.
"THE DANUBE and MUD have paved the way for a new language of dramatic realism."
—Bonnie Marranca, Theaterwritings
"Playwright María Irene Fornés's production of her play MUD — a stark drama set amid the groping lives of the rural poor that I saw last year — spoke in the steely voice of a writer who knew exactly what she intended with every word, every gesture. MUD's spare, direct poetry was crystal-clear."
—Scott Rosenberg, San Francisco Examiner
---
STILL TO COME THIS SEASON
TBA
Apr 19–20. Featuring the entire first-year class!