Although Arthur Miller's The Crucible takes place in the late 17th century, no theatrical element can bring the play to life in a new, redesigned perspective more clearly than Grier Coleman's costume design. As soon as the lights up come, our audience will realize, as Grier puts it, "This isn't your grandmother's Crucible!"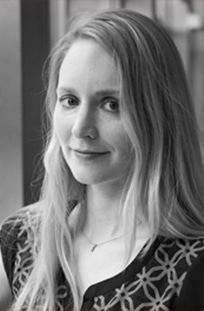 A UNC-Chapel Hill alumna, Grier first started her work with PlayMakers through the university's undergraduate work-study program. "I didn't really know that costume design was a career," Grier tells us. "My family are all scientists; my brother is getting his Ph.D. here [at UNC] in water purification and public health, my mom's a nurse, my dad was an engineer." From an early age, Grier had a love for clothing design; in the second grade she designed her own ice-skating costumes and was fascinated with the historical American Girl dolls and their array of clothing.
"It didn't really occur to me until I was flipping through the course catalog…[thinking] 'there are costume design classes?' So I started signing up for those, and realized 'Okay, I can actually have a career in theatre.'" She took classes under Judy Adamson, Bobbi Owen, and Rachel Pollock, who are still working in the costume department at PlayMakers today. After moving to New York for an internship at Juilliard, Grier has been able to work solely with costume design. Grier declares, "It's fantastic."
"We're actually getting to build this show exactly the way we want it to be."
For The Crucible, Grier explains that because the play is a classic, it's perfect for exploration and transformation in exciting, new ways. After meeting with Director Desdemona Chiang and discussing their unique vision for the show (for hours), Grier researched and created line-drawings for the costume design. Both agreed that through creative design, the play could be reimagined in a way to reflect modern culture.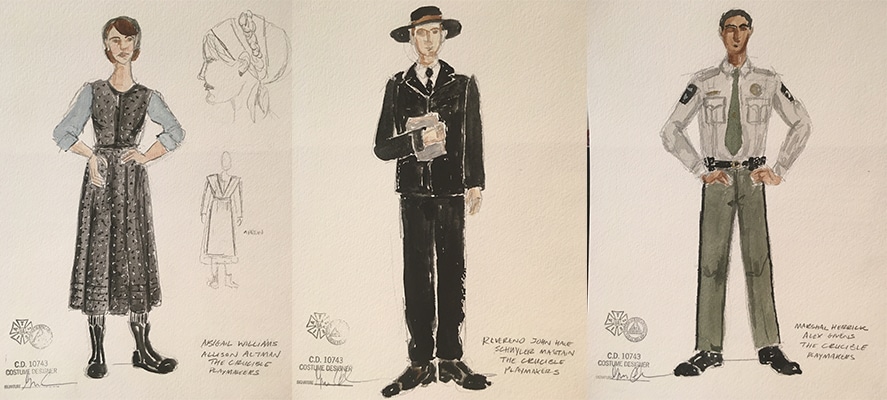 Grier's sketches for The Crucible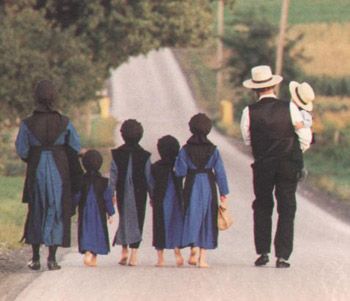 When creating the designs, Grier pulled ideas from mid-western Hutterite, Amish, and Mennonite clothing and modern attire to create a unique compilation of clothing. Grier admits that The Crucible carries "this high school production stigma," where most viewers may already have a preconceived notion of what the play may look like. By using a mixture of both period and modern clothing, Grier's work transforms the production into a new, more relevant piece. "We wanted to break away from that, and with this new take, [the stigma] was alleviated."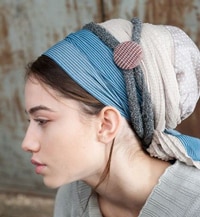 Come see Grier's designs come to life in The Crucible as you've never seen before, onstage October 19- November 6.
Click here or call our Box Office at 919.962.7529 for tickets.