Scenic Designer McKay Coble on her set for PlayMakers' It's a Wonderful Life: A Live Radio Play
The backdrop for It's a Wonderful Life: A Live Radio Play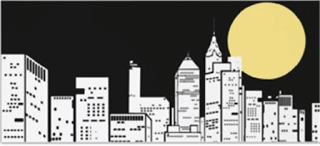 I had mixed feeling about accepting this design assignment! While I grew up in a Miracle of 34th Street house, I married an It's a Wonderful Life man. My husband Frank, is such a fan of the movie that it is a really big deal when we watch it. The house has to be decorated, smell like pine and cookies. I think the wind even has to blow in a certain direction before we are allowed to watch it. We all watch as a family almost like it is a ritual, and my now-college-age daughters have fallen under the same spell. It is a real part of our holiday. My girls vie for who will get to say Zuzu's line about her flower.
Through McKay's sketches,
the set takes shape
I was ambivalent about whether I should be part of a project that my family would clearly see as alien but was then intrigued to see if I could get the same response from them through a live performance. I was also pretty sure that this would be a challenge for other It's a Wonderful Life fans, to see "their" story out of context. "Make Frank Cry" became the rallying cry for the production team as we tried to bring the classical tale to life with a fresh approach and with reverence for the iconic movie.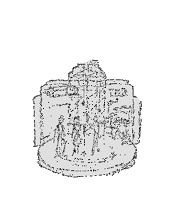 My idea started, as does the script, in the studio of a radio station. Using the mechanics of the studio I start to drop hints from the movie into the space. This ultimately changes the space from a studio to the layered world of Bedford Falls. I use iconographic images from the movie and bring them in so the audience members catch them out of the corner of their eye. My favorite is the moon over Manhattan that starts to morph into the lassoed moon Mary draws for George.
Zu Zu Ginger Snaps
I also have some 1946 product placement at the front of the stage with an ad for ZuZu Gingersnaps. I never understood why George and Mary's other kids had such regular names–Tommy, Janie, Pete—and then Zuzu. I looked it up: it really is a gingersnap!
I loved working with Nelson, who was so creative in his use of props and staging to move us subtly from the black-and-white studio approach into the colorful world of It's A Wonderful Life. I don't like colorized movies. This time I think it works!
IT'S A WONDERFUL LIFE: A LIVE RADIO PLAY adapted by Joe Landry
November 28 – December 16, 2012
Directed by Nelson T. Eusebio III