As PlayMakers puts the finishing touches on it's on-stage reinvention of the holiday film classic IT'S A WONDERFUL LIFE, we go behind-the-scenes to see what inspired our creative team, beyond Capra's classic movie, of course.
We continue our look at the sources that inspired costume designer Rachel Pollock when creating the clothing for the two '40s-era actors tackling the iconic roles of George Bailey and Mary Hatch.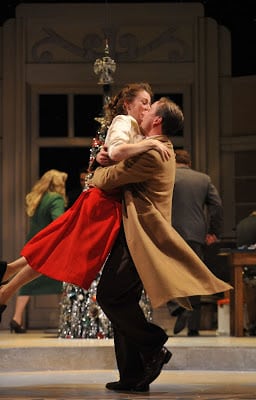 Perhaps unsurprisingly, Rachel looked to Jimmy Stewart for our own lovable George, Jake Laurents (played by Todd Lawson). Also included are some close studies of texture and neckties, as well as specific focus on getting exactly the right, scene-stealing hat.
Sally Applewhite (Maren Searle) plays Mary Hatch, and color is among the orders of the day. Rachel looked at many examples of stylish 1940s cuts and catalogues to come up with just the right tone for our clever lady from Bedford Falls.
IT'S A WONDERFUL LIFE: A LIVE RADIO PLAY adapted by Joe Landry
November 28 – December 16, 2012
Directed by Nelson T. Eusebio III