Genesis Oliver and Myles Bullock in foreground. Nathaniel Kent, Schuyler Scott Mastain and Carey Cox in background. Photo by Jon Gardiner.
The media is abuzz, but they're not the only ones who can't say enough about We Are Proud To Present… Audience members have alot to say about this "Must-See" show.
"That restored my faith in humanity."
"Beautiful and powerful – it touches all of us."
Middle School staff member Amy Smoker calls We Are Proud to Present… "incredibly powerful…[the actors] touch on what to me felt like very timely, thoughtful, and intense issues that we as a society are currently facing." Chapel Hill Early School teacher Marit Nelson said she was stunned by the power of the play.

[And another staff member] lauded the "brilliant script, killer directing, and solid acting."

– Carolina Friends School (Facebook)
"I'll be telling some people about this."
"we are proud to present" is the best play that I've ever seen

— Carl Tucker (@Carl_TuckerJr) February 27, 2016
"It built and built and built till it hit everything."
One lady came up to me and said, "The younger generation is portrayed so negatively in media and society, but then when I come here and see this show, it's just so heartwarming to see the younger generation being portrayed in a positive light. I have hope for the future because of that."

– Chelsea James, Assistant Front of House Manager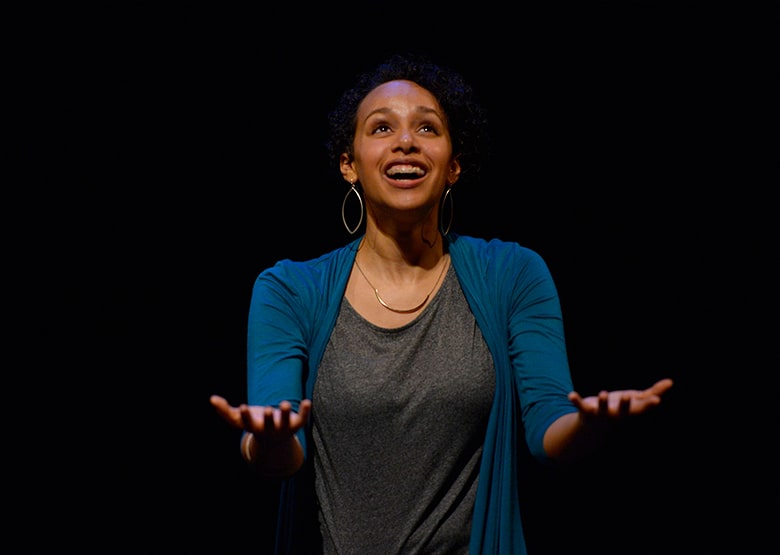 Caroline Strange. Photo by Jon Gardiner.
"Fabulous – the best show I've seen in the 5 years I've been coming here."
@bullcitybabe @playmakersrep it was amazing, not stopped telling people to go see it!

— Chapel Hill Garden (@CHgardenclub) March 8, 2016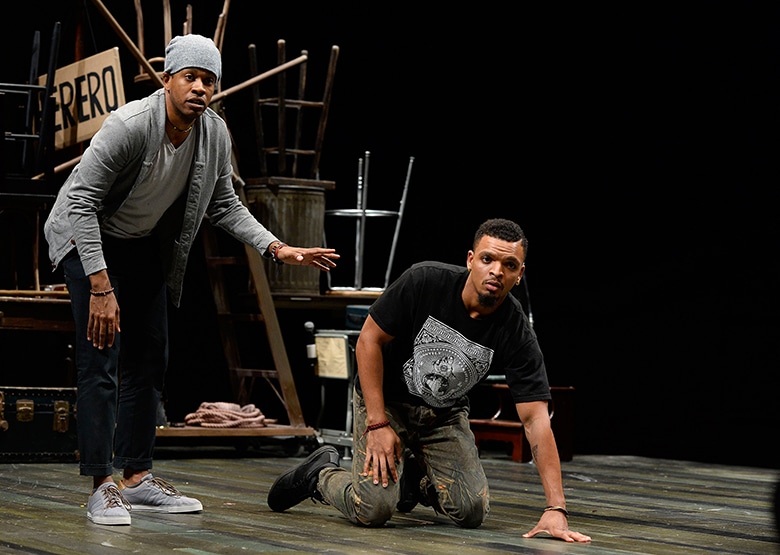 Words can't describe the courage, dedication and talent it takes to perform such an intense and impactful piece. I can honestly say this is the most speechless I've been after attending a production. We Are Proud to Present definitely touched parts of my heart that have been unaffected until tonight and made me realize how desensitized I've been to certain things as a product of the society we live in–it created a spark in me that I have never felt before. Thank you to everyone involved for such a deep-rooted and dedicated performance, all the applause you receive over this next week is well deserved and then some. -Facebook user
A note left in the theatre by a patron…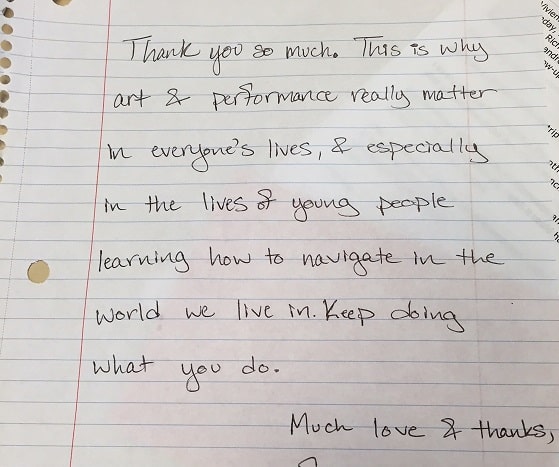 The actors have been highly impacted by performing this play for our community, reflecting on its overarching themes and how they apply in their lives.
Myles Bullock, who plays Actor 2/Black Man, had this experience after a performance:
Genesis [Oliver] (Actor 4/Another Black Man) and I were walking out of the theatre and a young African American man approached us. The first words out of his mouth were, "Thank you."

He just said thank you to us, over and over, and we said, "Nah man, thank you for coming and thank you for enjoying it!"

Genesis asked him, "What's the first thought this play brought to your mind?"

The young man turns to think about it and tears just start coming out of his eyes. He started breathing heavily and cried tears of frustration and anger and sadness, and just everything.

I took it upon myself to tell him that it's okay, I understand where you're coming from, I completely get what you are feeling. He said that he's never been able to articulate what he saw and heard articulated on that stage.

For me, it was a prime example of how young black males, black people in general, or people of color in general, have very little voice, very little say in what happens and how things are culturally configured for us. [This play shows an example of] how we live in a world that is not made for us to succeed, how our story and our heritage is not truly ours.

This young man felt comfortable enough with us, two guys he had never seen before that night, to just cry with us, to just be there in that. This was life changing for me. In fact, this production has been life changing for me – I know I will never forget this experience, ever.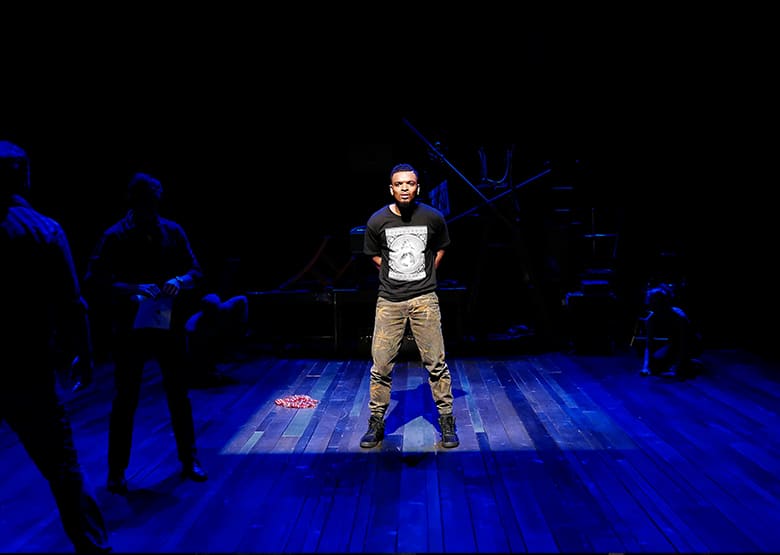 Myles Bullock. Photo by Jon Gardiner.
Ready to experience a truly incredible show? Join us for We Are Proud to Present… onstage now through March 13. Don't miss it!
Click here for tickets or call 919.962.7529 today.