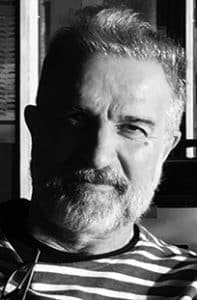 Music unites us, empowers us, and reminds us of our roots. In the words of Bruno Louchouarn, the composer and sound designer for PlayMakers' production of The Cake, music is engrained in our "DNA." It's the make-up of who we are and how we see the world.
And Lourchouarn himself certainly has quite the mix of DNA.
"I was born in France. I grew up in Mexico City. I spent 25 years in L.A. I've spent over 4 years here, so that that became my DNA."
Bluegrass plays a prominent role in the DNA of North Carolina — one of the earliest banjo players in bluegrass history, Earl Scruggs, hailed for the Tar Heel state. North Carolina is home to hundreds of bluegrass festivals like Preddyfest and artists like The Avett Brothers.
Over the years, bluegrass has gained popularity across the states and has intertwined itself with other genres of music beyond that of the Blue Ridge mountains. Indie/alternative lyrics and electronic sounds paired with bluegrass instruments has innovated and sophisticated the genre, causing the explosion of "newgrass" or "progressive bluegrass."
As you may hear in The Cake's soundtrack, bluegrass and progressive bluegrass are the backdrop of the production. The music is meant to convey the North Carolinian DNA shared by characters Della and Jen.
"It's very organic. It's all composed for this show, created around the story."
Della, a prominent baker from Winston-Salem, N.C. struggles with her traditional, southern Christian views on gay marriage when her beloved Jen requests a cake for her wedding.
"On the baker's side, you'll hear more traditional (bluegrass) music," Louchouarn said when describing Della's musical backdrop. Jen, however, is a North Carolina native living in the Big Apple. Her attachment to both places brings a narrative tension between both traditional and progressive ideologies.
"She goes to New York, but she feels attached to North Carolina, so you'll hear a sophisticated and hip version of blue grass, like 'newgrass.'"
Louchouarn described the music in The Cake as "two musical worlds, bringing warmth or loneliness, everything according to how the show goes. That's the DNA of the music."
Hear the music of The Cake in person today! Now through October 1. Tickets start at $15 each. Call 919.962.7529 or click here for more information.