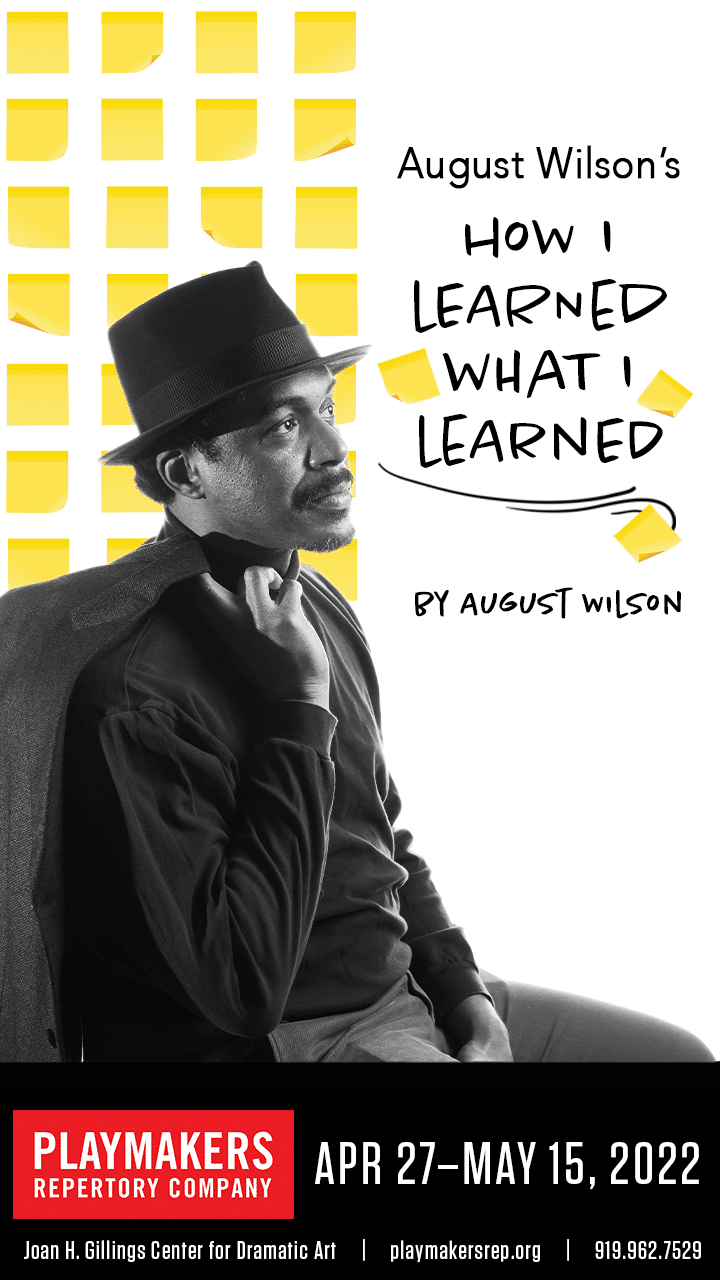 ---
---
Table of Contents
Letter from Vivienne
Support PlayMakers
Who We Are
Title Page
Program Notes
About the Author
Actor Bios
Creative Team Bios
General Information
PlayMakers Staff
Friends of PlayMakers
Corporate and Foundation Partners
Announcing Our 22/23 Season


Desktop Computer Version of playbill available here
---


Dear PlayMaker,
I feel so lucky to be part of a University community that is charged with welcoming complicated discourse, interrogating our society and encouraging dynamic inclusion. I particularly love it when good theatre can play a role in that discourse. That is why it feels incredibly powerful to conclude our 21-22 season connecting with the legacy of August Wilson, one of the greatest poets and theater makers in American history.

Wilson's history of tracking the African American experience through his Century Cycle has challenged the American Theatre to do better, and has transcended a siloed landscape of culturally specific artistic spaces to include the broader historically white institutions, and even the Great White Way.
With "How I Learned What I Learned" we get a more intimate look at the charming, self-respecting, complicated man who shifted the landscape. It is beautifully realized by director Tia James with a creative team of phenomenal storytellers, and embodied by actor Samuel Ray Gates who, since joining the company in 2017, has already crafted a number of memorable characters.
Thank you for being here and for supporting PlayMakers' vision. I hope you're also planning to join us for the incredible 2022-23 line-up that was just announced! It's one I believe brings all the scope, depth, craft and high entertainment to which we are committed.
Warmly,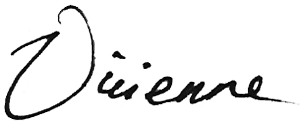 Vivienne
P.S. Don't forget to join us this summer for another fantastic Summer Youth Conservatory production featuring area young people in "The 25th Annual Putnam County Spelling Bee"!
---
Jump to: Letter from Viv | Support PlayMakers | Who We Are | Title Page | Program Notes | About the Author | Actor Bios | Creative Team Bios | General Information | PlayMakers Staff | Friends of PlayMakers | Corporate and Foundation Partners | Announcing Our 22/23 Season
---

It is my pleasure to serve another year as the chair of the PlayMakers Advisory Council and welcome you back to the Paul Green Theatre stage for our 2021-22 season.
Our five-show season was born out of the need to celebrate the healing power of human connection after a year that challenged us all. We believe that the theatre will have an important role to play in making sense of the complex world in which we find ourselves in. When I walk out of PlayMakers after a show, I always say how lucky we are to have a theater with such world-class performances right here in Chapel Hill. This season, I am grateful for the opportunity to experience PlayMakers' signature variety of shows, live and in person once again!
In addition to an impressive lineup of powerful performances, PlayMakers continues its work serving the Triangle community and beyond. We are privileged to provide unique learning opportunities for K–12 classrooms and UNC students, creating new ways to engage with our local artists and advocates, and make the power and joy of theatre accessible to underserved communities.
Theatre is and always will be a place for community. And it is up to us—the community—to ensure that PlayMakers continues to thrive. Gifts from patrons like you will be critical to our success as we navigate reopening after more than a year away from producing live theatre with in-person audiences. If you enjoy and believe in the power of the theatre as I do, I invite you to become a Friend of PlayMakers. Please make a tax-deductible contribution to the annual fund, pledge a monthly donation as a Sustainer, or offer a campaign gift to strengthen and sustain PlayMakers' vision for the future.
I truly believe that there has never been a more important time to support the arts. Join me in championing our local theatre—an organization that makes a difference in our community. As Joan Gillings often said, "You will sit a little taller in your theatre seat, knowing you made a difference, too."
Thank you!
Warmly,



Amy Guskiewicz
PlayMakers Advisory Council
Amy Guskiewicz, Chair
Betsy Blackwell, Vice Chair
Duncan Lascelles, Vice Chair
Joanne Garrett
Deborah Gerhardt
Bobbi Hapgood
C. Hawkins
Janelle Hoskins
Betty Kenan, emeritus
Stuart Lascelles
Robert Long, emeritus
Graig Meyer
Julie Morris
Paula Noell
Florence Peacock
Diane Robertson
Wyndham Robertson
Carol Smithwick
Jackie Tanner
Jennifer Werner
Mike Wiley
Jump to: Letter from Viv | Support PlayMakers | Who We Are | Title Page | Program Notes | About the Author | Actor Bios | Creative Team Bios | General Information | PlayMakers Staff | Friends of PlayMakers | Corporate and Foundation Partners | Announcing Our 22/23 Season

PlayMakers is…
"One of America's Best Regional Theatres" (American Theatre Magazine), PlayMakers Repertory Company is North Carolina's premier professional theatre company, proudly in residence on the dynamic campus of the University of North Carolina-Chapel Hill. The professional company was founded in 1976, growing out of a storied 100 year tradition of playmaking at Carolina. Our mission is to produce relevant, courageous work that tells stories from and for a multiplicity of perspectives. We believe that theatre can have a transformational impact on individuals and entire communities, and we are committed to the work of becoming an anti-racist organization whose work is accessible to all.
At the very heart of the PlayMakers experience is one of the nation's last remaining resident theatre companies, made up of accomplished performers, directors, designers, artisans, and technicians, and supported by exceptional graduate students in UNC's Department of Dramatic Art. Our company works side by side with guest artists from all over the world and our alumni include Pulitzer Prize, Tony®, Emmy®, and Grammy Award® winners.
Creating Tomorrow's Classics, Today
Producing Artistic Director Vivienne Benesch is continuing PlayMakers' tradition of producing vibrantly reimagined classics, large-scale musical theatre, and significant contemporary work, but is also broadening the company's reach to become a home for new play development and a true hub of social and civic discourse in the region. Her first five seasons have already given life to ten important new American plays.
A Hub of Engagement
PlayMakers seeks to provoke thought, stimulate discussion and push the boundaries of the theatrical form in everything we do. Whether through our intimate @Play series, our mainstage offerings or our virtual line-up, we look for opportunities for direct, dynamic engagement between audiences, artists and thinkers. The Vision Series, post-show discussions and a host of unique engagement opportunities – including the continuation of last season's online PlayMakers Keeping You Company – enrich our audience's experience of the live arts.
Theatre for the People
PlayMakers Mobile is an initiative that seeks to contribute positively to the civic and social life of our region by taking world-class theatre out of our building and into the community. We create a streamlined production of a play each year and take it to schools, transitional housing facilities, and long-term treatment facilities around the Greater Triangle area. And best of all, it's all free of charge. We look forward to getting back on the road as soon as we can do so safely.
Passing the Torch
PlayMakers' award-winning Summer Youth Conservatory is the only professionally supported training program of its kind in the region. The Theatre Quest program provides camps to area middle school students, while the Theatre Intensive and TheatreTech programs allow Triangle high schoolers to apprentice directly with professional directors, choreographers, musical directors, and technicians, culminating in a professional quality production on the PlayMakers mainstage for the whole community to enjoy.
Eliminating Barriers
With a commitment to eliminating barriers for attendance when we host live events, PlayMakers offers All Access performances for our patrons living with disabilities, we offer accessible $20 tickets for all performances, and tickets reduced to just $10 for UNC students and $12 for all other students. Our Spotlight on Service program also offers complimentary tickets to local service organizations. This season, we are proud to offer complimentary tickets to front-line workers in honor of their ongoing service to the community. For more information, please contact prcboxoffice@unc.edu.
---
Our Mission
As the premiere professional theatre company of North Carolina, PlayMakers Repertory Company strives to produce entertaining, relevant, and courageous work that tells stories from and for a multiplicity of perspectives and creates transformational impact in our immediate and extended communities.
---
Our Vision
Provoke
Represent
Create
---
Our Values
Artistic excellence and artistry
Education and training
Community engagement
Access and equity
Financial health
Discovery and innovation
Collaboration and communication
Culture of support
---
Antiracism Accountability Statement
At the heart of PlayMakers Repertory Company's mission is the belief that theater has the power to transform individuals and entire communities. There is no more aspirational or urgent a use of that power than working to dismantle the systems of oppression, white supremacy, and racism that pervade American life and consume the American Theatre. PlayMakers continues to assess and evaluate our own practices in order to embed equitable, antiracist policies into strategic planning, our mission, and our operations.
PlayMakers Repertory Company, and those of us who work here, commit to the following:
To work intentionally to create an antiracist culture in our company.
To continually educate ourselves on the ways in which we can combat racism locally and nationally as we move to create an inclusive, diverse, and equitable sense of belonging for every one of our constituents.
To demonstrate our values through action in our policies, practices, and procedures.
We are grateful to Black, Indigenous and People of Color artists and administrators within our local community as well as the larger theatrical community across the country for the resources they've expended, both in time and emotional labor. Their work lays an important foundation for us by articulating some of the harmful practices that must change immediately as well as identifying pathways for the long-term evolution that must follow. In that light, this document is the beginning of a response to the demands for change made by the anti-racist organization #WeSeeYouWhiteAmericanTheater.
As a professional theatre company embedded in, and inextricably linked to the Department of Dramatic Art (DDA) at the University of North Carolina–Chapel Hill, the path forward will be complex and singular. We will therefore be updating our action items and commitments continuously as our work evolves.
We at PlayMakers understand our responsibility not only to the artists, staff, and audiences with which we engage, but significantly, to the many students training here for a career in the theater.
For more information on our next steps, please read our full statement here.
These are not our first steps, and by no means our last. They are not perfect. And they are not enough. But they are steps forward. We invite you to come back to our website and our theater often and monitor our progress. We take our responsibility to this effort seriously and we welcome your involvement and assessment.
---
Land Acknowledgement
We acknowledge that the Center for Dramatic Art is located on the unceded lands of one or more of Abiayala's (the Americas') original sovereign nations, the name(s) of which have not yet been affirmed. The unjust acquisition of these Indigenous lands came about through a history of racism, violence, dispossession, displacement, and erasure of cultures by settlers as part of the larger, land-centered project of settler colonialism.
As we look to the future, please join us in acknowledging and learning about the atrocities committed against these Nations and work with us towards inclusion, representation, and a better relationship with citizens of sovereign American Indian and Alaska Native nations.
Why is Land Acknowledgement important?
This statement is part of the continual interrogation of our own participation and complacency in colonial structures and a call for greater awareness, accountability, and intentionality in the work we do. As storytellers we are committed to learning and telling stories in ways that will have transformational impact in our immediate and extended communities.
We are excited by future partnerships with Native Americans and look forward to sharing this journey of knowledge and growth with you.

Learn more: UNC American Indian Center
---
Jump to: Letter from Viv | Support PlayMakers | Who We Are | Title Page | Program Notes | About the Author | Actor Bios | Creative Team Bios | General Information | PlayMakers Staff | Friends of PlayMakers | Corporate and Foundation Partners | Announcing Our 22/23 Season
---
Co-Conceived by Todd Kreidler
Scenic Designer
Costume Designer
Lighting Designer
Sound Designer
Projection Designer
Dramaturg
Assistant Director
Vocal Coach
Choreographers
Stage Manager
Assistant Stage Manager
APR 27-MAY 15, 2022
*Indicates members of Actors' Equity Association, the Union of Professional Actors and Stage Managers in the United States.
"How I Learned What I Learned" is presented by arrangement with Concord Theatricals on behalf of Samuel French, Inc. www.concordtheatricals.com
New York Premiere originally produced by Signature Theatre, New York City
James Houghton, Founding Artistic Director; Erika Mallin, Executive Director

The world premiere of "How I Learned What I Learned" was presented by Seattle Repertory Theatre in 2003, performed by August Wilson
PlayMakers is the Professional Theatre of the Department of Dramatic Art
Adam Versényi, Chair
Vivienne Benesch, Producing Artistic Director
Nichole Gantshar, Managing Director
Produced in association with The College of Arts & Sciences
The University of North Carolina at Chapel Hill
---
Jump to: Letter from Viv | Support PlayMakers | Who We Are | Title Page | Program Notes | About the Author | Actor Bios | Creative Team Bios | General Information | PlayMakers Staff | Friends of PlayMakers | Corporate and Foundation Partners | Announcing Our 22/23 Season
---

PROGRAM NOTES
By Saleemah Sharpe, Dramaturg
"We are what we are –
Are made by old things,
Come back. Clearly,
Brilliant as the sun."
– August Wilson
Tony Award and two-time Pulitzer Prize winner August Wilson is considered by many to be the Shakespeare of our time. His plays take Black America and put it onstage to, as Wilson describes, "affirm the values of Blacks and demonstrate their humanity." Wilson is best known for a series of ten plays collectively titled "The Pittsburgh Cycle" or "The Century Cycle", which chronicles the experience and traditions of the black community. Race relations, duty, man/fatherhood, family, honor, and the pursuit of one's ideals are all consistent themes in the Century Cycle; "Gem Of The Ocean" (1900s), "Joe Turner's Come & Gone" (1910's), "Ma Rainey's Black Bottom" (1920s), "The Piano Lesson" (1930s), "Seven Guitars" (1940s), "Fences" (1950s), "Two Trains Running" (1960s), "Jitney" (1970s), "King Hedley II" (1980s) and "Radio Golf" (1990s). Wilson's numerous other awards include the Laurence Olivier American Airlines Award, seven New York Drama Critics' Circle Awards for Best Play, Whiting Writers' Award, American Theatre Critics Association Award, Black Filmmakers Hall of Fame Award, Literary Lion Award from the New York Public Library, Outer Critics Circle Award, Olivier Award for Best New Play, National Humanities Medal, MakeShift Award at the U.S. Confederation of Play Writers and 23 honorary degrees.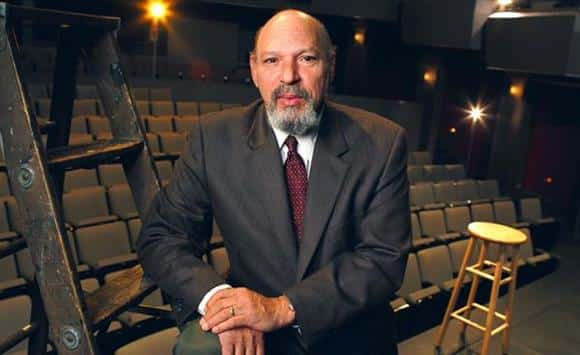 Announcing PlayMakers' 22/23 Season
The season features six productions on the Paul Green Theatre stage, which will be transformed into the heart of the Harlem Renaissance, a usurper King's court in Denmark, a neighborhood backyard battleground, a queen's playground in Florida, a meddlesome English matchmaker's drawing room, and, finally, familiar ground in the South for a young man's journey of creative self-discovery.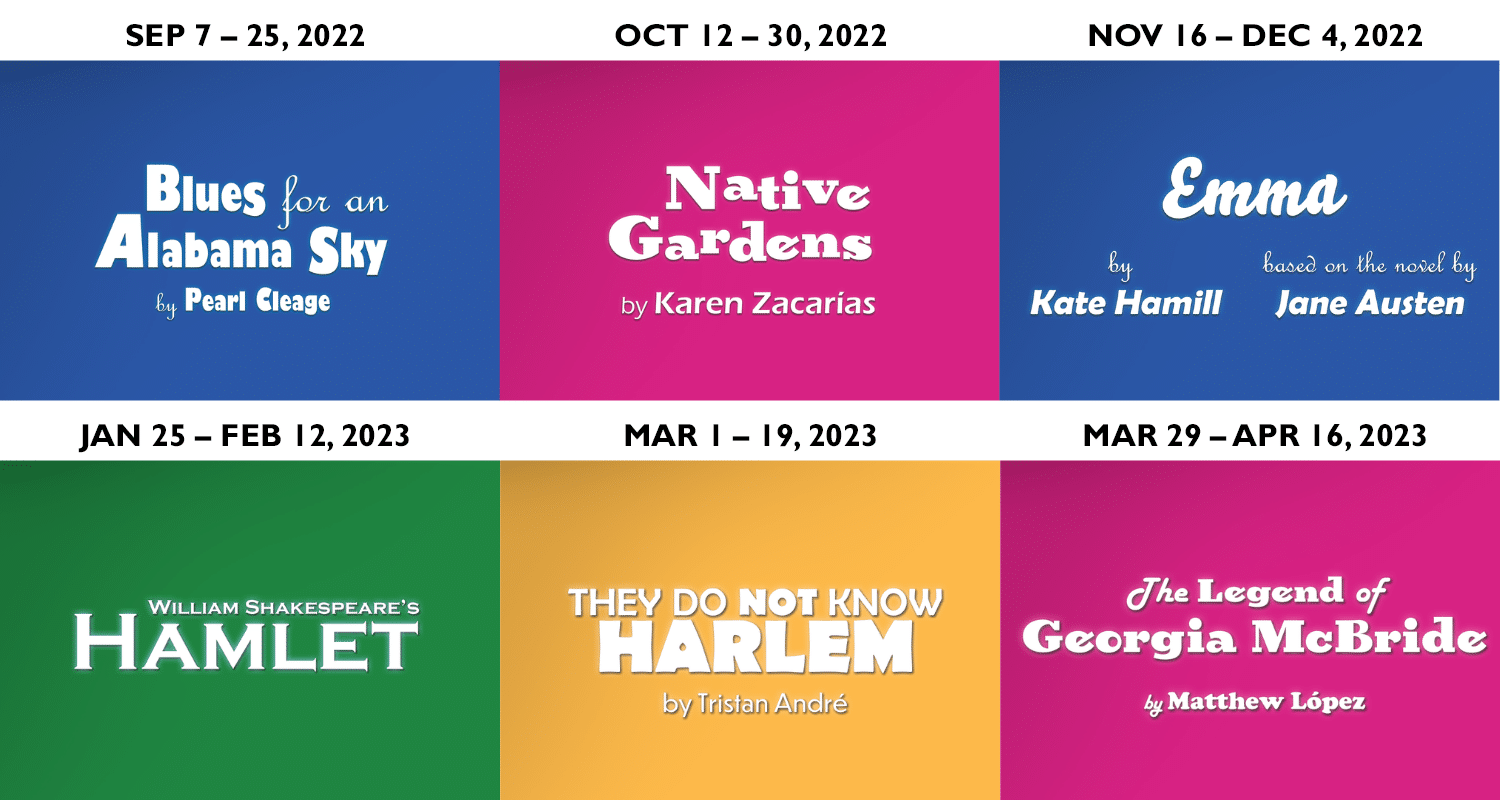 RETURNING SUBSCRIBERS:
Renew your subscription by MAY 27, 2022 to keep your seats and get the best value.
Renew Your Subscription
NEW SUBSCRIBERS:
Click below to choose your performance dates and seating zone.
Subscribe Today!
---
Jump to: Letter from Viv | Support PlayMakers | Who We Are | Title Page | Program Notes | About the Author | Actor Bios | Creative Team Bios | General Information | PlayMakers Staff | Friends of PlayMakers | Corporate and Foundation Partners | Announcing Our 22/23 Season