Sound Designer/Composer
Disgraced is a nuanced but dynamic journey through complex aspects of identity and heritage in America. Every character in the play deals with stereotypes, perception, beliefs, allegiances. For the two characters at the center of the story it is Islam and America.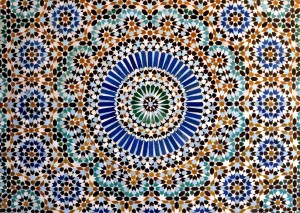 Mosaic art inspiration
Director Shishir Kurup and I wanted to explore musically the complexities of this duality in the characters Amir and Emily. Both are very educated. Amir was born in America in a Pakistani Muslim family and is very critical of Islam. Emily is a white artist who uses Islam as an inspiration and some say a "subject" for her controversial art. Shishir and I realized that cultural elements should not be direct references but, rather, subtle elements mirroring the character's psychology. Music and sound can have meaning in a variety of ways- as a reference to a place, culture, period in one's life, or as emotional, internal and more universal. Music also allows the superimposition of distinct layers to underscore ambiguity and unresolved issues.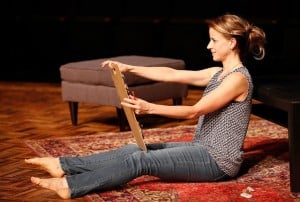 Nicole Gabriella Scipione on set
The music for our production has both Western elements and subtle references to Pakistan and Islam, as both characters lives are intertwined with these realities. Amir wishes to be perceived as Indian and not Pakistani (he changed his last name from Abdullah to Kapoor) and had all but renounced Islam. He is also a very driven man, full of charm, with a bit of a temper.
Stylized Bhangra beats, a traditional element in music of both India and Pakistan, are used subliminally to underscore Amir's relationship to his heritage. Sufi melodies in filigree, represent the spiritual aspect of Islam, also present in the Punjab, and wowed in minimalist textures to underscore Emily's Islam-inspired art. Western chamber music with a minimalist tinge, bouncy violas and cellos, represent their shared reality and success in Manhattan. Sparse piano chords underscore Emily's state of mind as the story progress. All these elements are woven into a composed sound world that the director started using in rehearsal.
Shishir's concept was to frame the scene by bringing the pre-show and the transitions to life as a way to share interstitial moments in the life of the characters. In those transitions the music is very present, whereas during the scenes it appears rarely and only in a very subliminal fashion.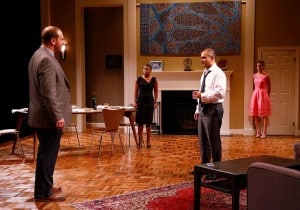 L to R: Benjamin Curns, Rasool Jahan, Rajesh Bose and Nicole Gabriella Scipione in Disgraced
Ultimately, the final score grew out of these ideas and took shape during the technical rehearsal process, which is very collaborative, and where director, actors, set, costumes, lights and sound/music collaborate closely to sculpt and create the experience of the story.
Join us as Disgraced brings the conversation center stage. Now through October 4th.
Click here or call our Box Office at 919.962.7529 to reserve tickets.