Mike Wiley receives award for his outstanding contributions in the arts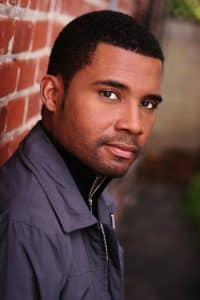 (Chapel Hill, N.C.— Oct. 12, 2017)—Today, the University of North Carolina at Chapel Hill awarded playwright Mike Wiley with its Distinguished Alumnus Award, which recognizes alumni who have made outstanding contributions to humanity.
Wiley, a graduate of the M.F.A. program at UNC-Chapel Hill's Department of Dramatic Art, is currently writing "Leaving Eden," a PlayMakers Repertory Company commissioned work which will premiere in April 2018. A collaboration with North Carolina singer-songwriter Laurelyn Dossett, "Leaving Eden" is an American fable for today that explores the cyclical nature of human behavior through the lens of a small North Carolina town. This story of racial tension, immigration and economic crisis unearths the stories of yesterday while yielding a hopeful hymn for our future.
Wiley's compelling works of drama and history have been shared across the U.S., Canada, South Africa, and beyond. His ensemble dramas have been produced by PlayMakers Repertory Company, the Guthrie Theatre in Minneapolis, the Shakespeare Theatre in Washington, DC, and featured in the Freedom Riders 50th Reunion in Jackson, MS.
Wiley is the 2010 and 2014 Lehman Brady Visiting Joint Chair Professor in Documentary Studies and American Studies at Duke University and UNC-Chapel Hill.