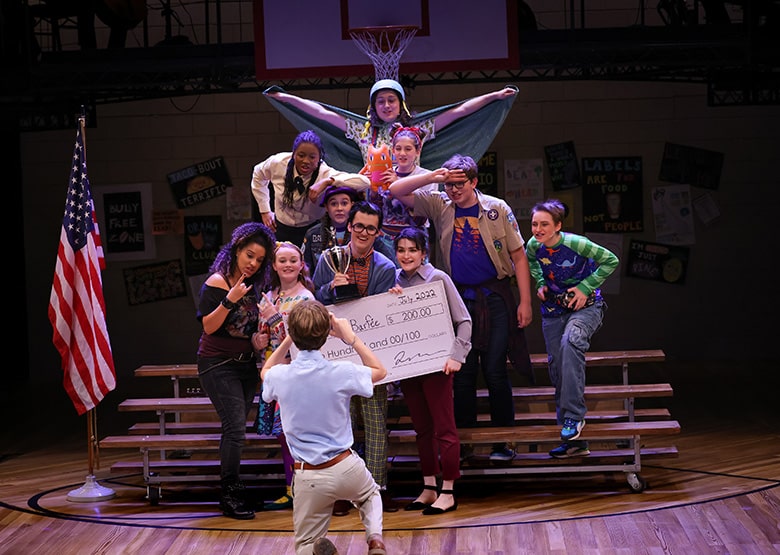 The 25th Annual Putnam County Spelling Bee
book by Rachel Sheinkin
music & lyrics by William Finn
conceived by Rebecca Feldman
Directed by Tracy Bersley
How do you spell F-U-N?!
This heartfelt musical comedy follows an eclectic group of six teens who compete for the spelling championship of a lifetime. While candidly disclosing hilarious and touching stories from their home lives, the tweens spell their way through a series of (potentially made-up) words, hoping never to hear the soul-crushing "ding" of the bell that signals a spelling mistake. Eight spellers enter; one speller leaves! At least the losers get a juice box.
TONY AWARD WINNER
"utterly hilarious, surprisingly warm, and almost criminally entertaining."
Centerstage
The 25th Annual Putnam County Spelling Bee is the culmination of PlayMakers' Summer Youth Conservatory, a six-week practicum for high school students—both on stage and behind the scenes—combining top-notch teaching with unparalleled practical experience. Students work with professional directors, choreographers, musical directors, and theatre technicians to mount a professional quality production for all to enjoy.
AGE RECOMMENDATION
"The 25th Annual Putnam County Spelling Bee" is a hilarious look at a group of elementary schools on the cusp of adolescence. While largely a fantastically funny and heartfelt musical, there are some themes that may be mature for some of our younger patrons. We recommend the show for audiences ages 8 and older.
---
READ THE PLAYBILL
Desktop Version | Mobile Version
---