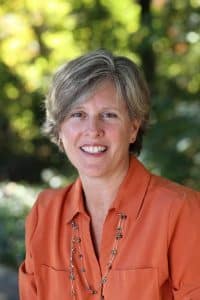 A Letter from the Advisory Council Chair:
It is my pleasure to serve this season as the chair of the PlayMakers Advisory Council and welcome you to our 2019-20 season.
PlayMakers is part of a proud 100-year tradition of playmaking at Carolina. Our Legacy | NOW season gives us the opportunity to carry on this tradition as we transition to the future, while continuing our mission of engaging campus, town and state communities through our programming.
When I walk out of PlayMakers after a show, I always say how lucky we are to have an award-winning theater with such world-class performances right here in Chapel Hill. Through community philanthropy, we are privileged to serve the Triangle and beyond with K-12 programs, the PlayMakers Mobile touring troupe, and accessible services that bring the magic and power of theatre to underserved communities.
Living in Chapel Hill for the past 24 years and raising our family here has created many fond memories sitting alongside family, friends, and visitors at PlayMakers. I am always amazed at the variety of shows offered each season, which often challenge my thinking, entertain, and move me…leaving me thankful for the gift this theater provides.
If you enjoy and believe in the power of the theater as I do, I invite you to become a Friend of PlayMakers. Make a yearly gift to the annual fund, give a little each month as a Sustainer, or offer a campaign gift to strengthen PlayMakers' vision for the future.
Join me in supporting an organization that makes a difference in our community. And as Joan Gillings often says, "You will sit a little taller in your theater seat, knowing you made a difference, too."
Thank you!
Warmly,
Amy Guskiewicz
Chair, PlayMakers' Advisory Council
PlayMakers' Advisory Council
Amy Guskiewicz, Chair
Betsy Blackwell, Vice Chair
Duncan Lascelles, Vice Chair
Joanne Garrett
Deborah Gerhardt
Bobbi Hapgood
Janelle Hoskins
Betty Kenan, emeritus
Stuart Lascelles
Robert Long, emeritus
Graig Meyer
Julie Morris
Florence Peacock
Diane Robertson
Wyndham Robertson
Carol Smithwick
Jackie Tanner
Mike Wiley