Have you ever wondered where a particular costume piece comes from when watching a show? Maybe it's that hat you saw in "My Fair Lady" or that shoe from "Cinderella". You might be surprised at just how much work goes into some of the most iconic pieces.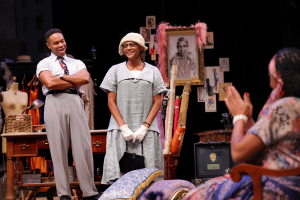 For many of these unique pieces, it is not as simple as ordering an item off of Amazon, someone has to make them.
This is true for the costumes seen in "Blues for an Alabama Sky". Once the costume designs have been drawn, the actual process of creating the costumes begins.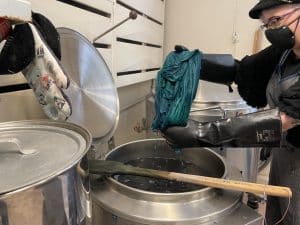 Rachel E. Pollock, PlayMakers' resident costume crafts artisan, is one of the artists who brought the designs to life. "I am responsible for everything that's not made by a tailor or a dressmaker," Pollock says. "I am responsible for all of the hats, shoes, surface design [such as dyeing and matching fabrics.]"
With "Blues for an Alabama Sky," there were many pieces that either needed alterations or had to be made entirely by hand, such as some of the hats worn throughout the show.
Pollock believes that the audience will enjoy seeing the different hats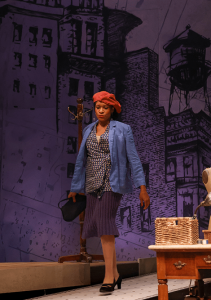 in the show for several reasons. "We don't really wear hats on a daily basis anymore in contemporary society and they used to be something you wouldn't leave the house without. I think audience members are always drawn to hats because they are glamorous and they give you a clue as to who that person is. You form an opinion about that person."
This same social convention is present in "Blues for an Alabama Sky". It was unheard of for men to not wear a hat when going about their daily business, and many women wore hats as well. The execution of one such hat for the show, worn by Angel (Tia James), went through several alterations before being ready for the stage.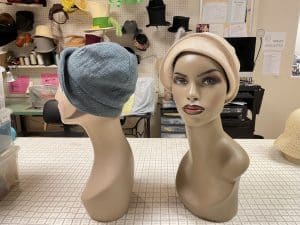 "Tia has very long locs. And of course, we are not going to ask her to cut her hair for this performance. But the hairstyles of that day, the silhouettes, [are very distinct]," Pollock shared. To achieve the type of silhouette that was popular in the 1930s, James' locs will be rolled up and into the necessary shape, protecting her hair while still staying true to historical standards. This ingenious idea, however, did lead to additional steps being needed to produce the hat.
"To account for the extra dimension around her head, we first made mock-ups to practice the millinery for the hat," Pollock said. Millinery is all of the steps that go into designing and producing hats. "Then, after we got [her] measurements, we were able to make this final version of the hat she will wear on stage."
A lining was required for the inside of the hat because Angel takes it off onstage and the inside can be seen by the audience. For those who love easter eggs, the fabric was pulled from a corset that was
used in PlayMakers previous production, "Intimate Apparel" by Lynn Nottage, which explored similar themes of the empowerment of African American women in a historical setting. This exquisite attention to detail reflects the care that goes into crafting each and every aspect of the costumes that reach the stage.
"The work that we do as crafters needs to be invisible," Pollock shared. "If I've done my job well, the audience isn't going to know anybody did it." The goal when creating these pieces is that they fit so seamlessly onto the stage that the audience is pulled into the story as if they weren't watching a play but actually seeing it unfold in the time period it's set in.
"There is nothing fantastical about the costumes in this show," Pollock states. "These characters aren't wizards and no one travels through time." But the care that goes into creating the costumes is the same as it would be for any other production.
Blues for an Alabama Sky on stage September 7 – 25, 2022. Get your tickets today!