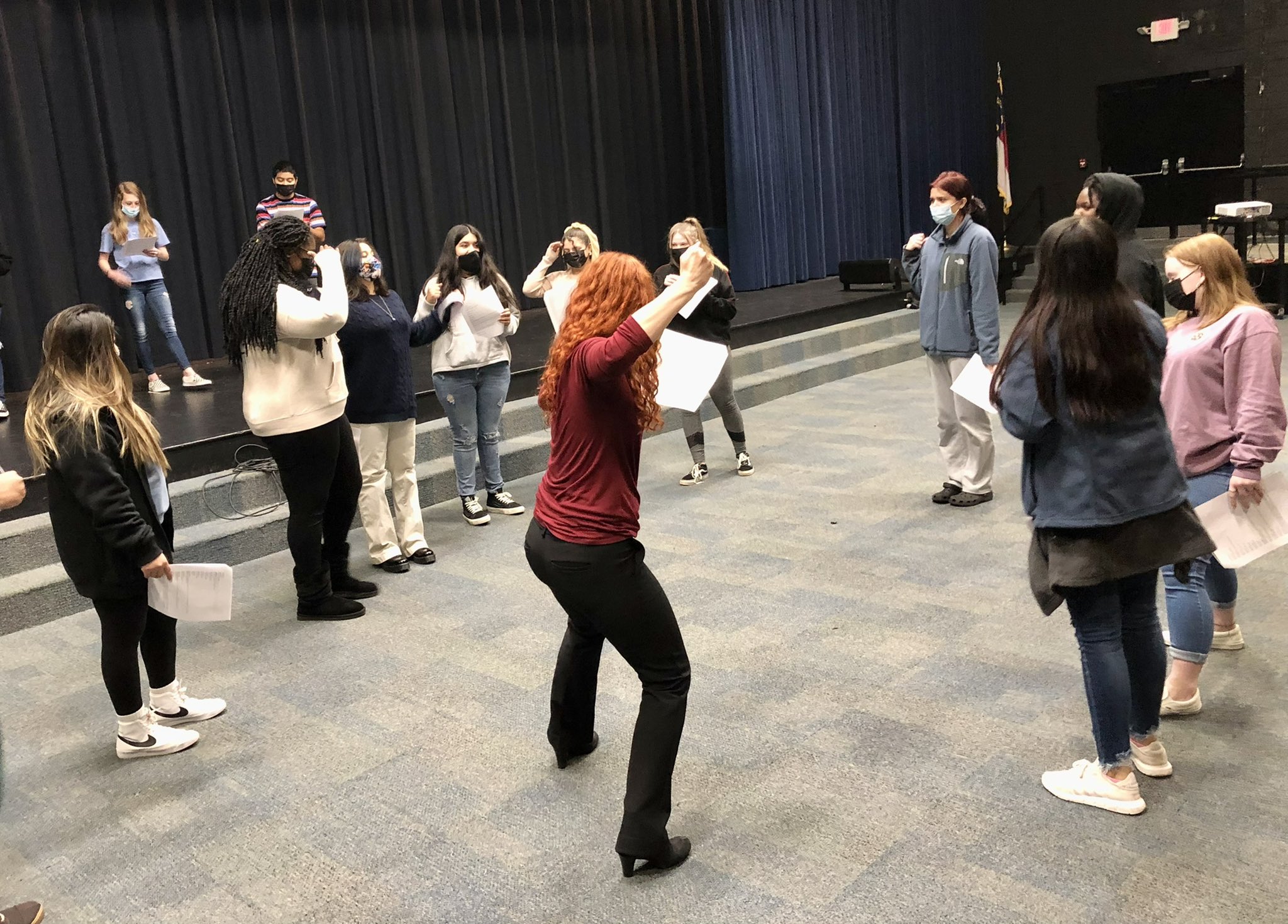 For the 2021/2022 season, PlayMakers was awarded a National Endowment for the Arts (NEA) grant for Shakespeare's "As You Like It" outreach.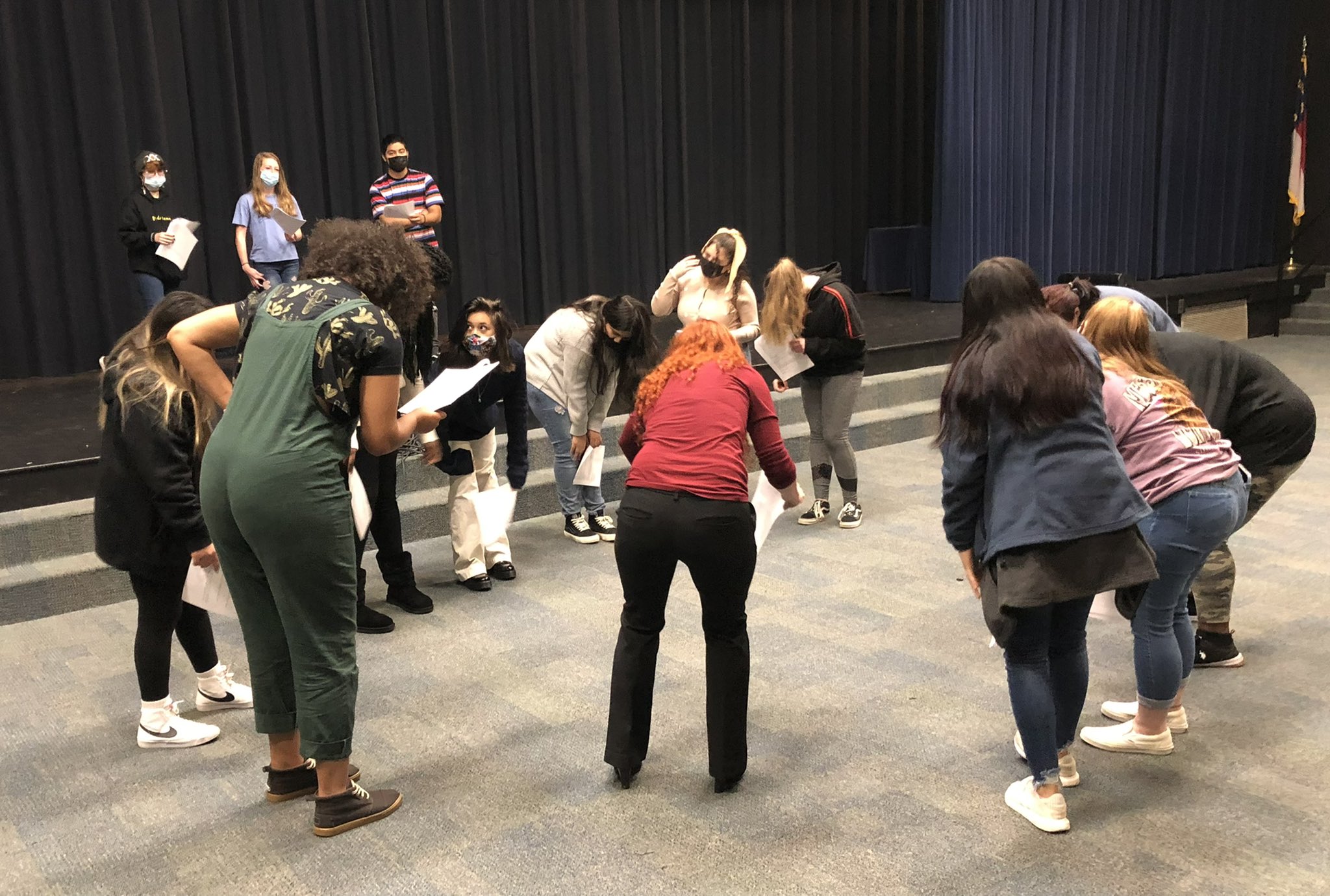 The grant includes two visits from PlayMakers' teaching artists to ten Title I schools along with free streaming access to PlayMakers' upcoming film of William Shakespeare's comedy, "As You Like It", directed by company member, Tia James. The film-theatre hybrid will be streaming January 8th through January 21st. This production is part of Shakespeare in American Communities, a program of the National Endowment for the Arts in partnership with Arts Midwest.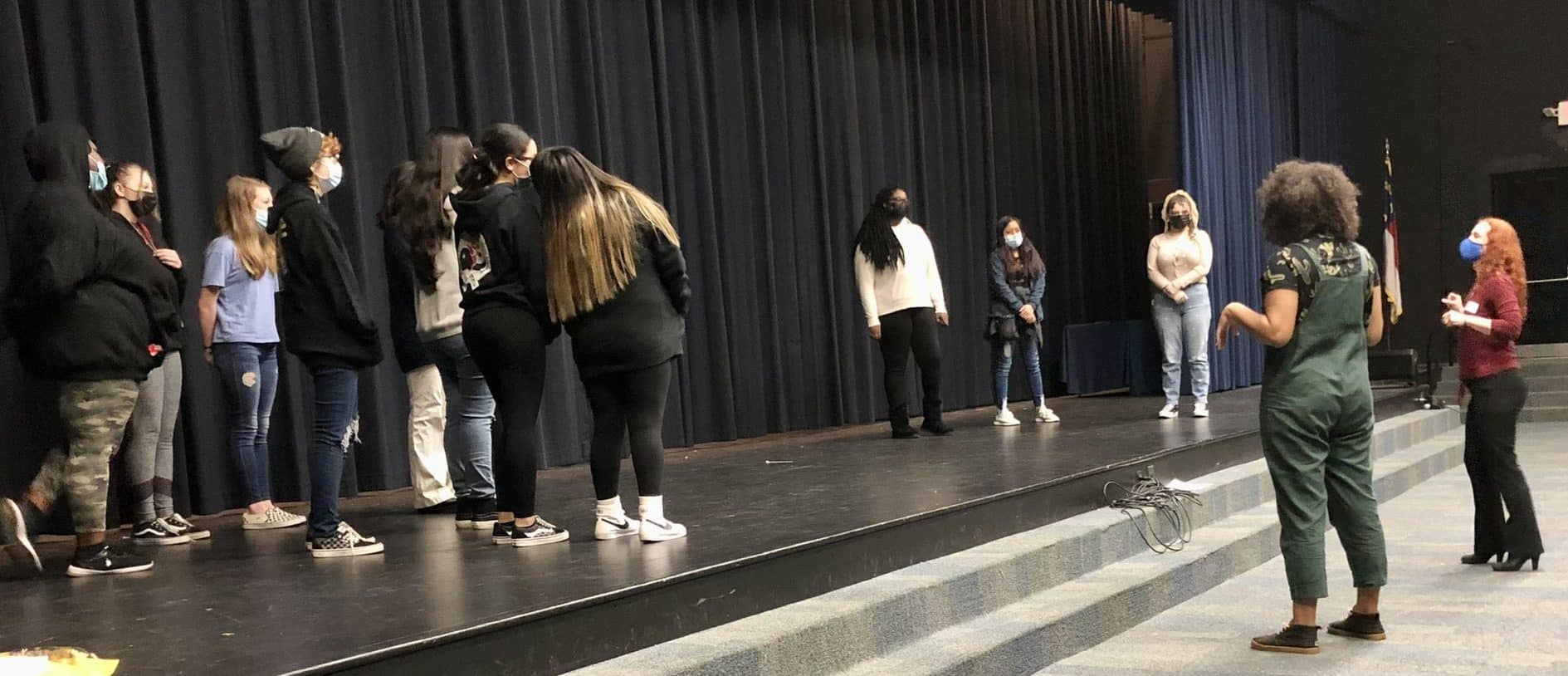 Pictured, are two of PlayMakers' teaching artists, Jessica Flemming and Rebecca Bossen, working with the students of Jordan-Matthews High School in Siler City, NC, where the students concluded that "Shakespeare is hard, but relevant!" The students will view the streamed production after the school's winter break, accompanied by an additional workshop.
"Thanks to the support of Arts Midwest and the NEA, PlayMakers can offer this amazing program supporting middle and high school students throughout the state," said PlayMakers' Associate Artistic Director, Jeffrey Meanza. "We're so excited for our school partners to experience this beautiful new filmed adaptation of one of Shakespeare's most beloved comedies."
Meet our teaching artists!
Jessica Flemming is an actor, singer, stage manager, director, and theatre educator based in Raleigh, North Carolina. She received her BFA in Theatre Performance from the University of Michigan-Flint. With over fifteen years of professional experience, Jessica has worked throughout the United States as well as internationally. Over the last year, Jessica has collaborated with Curious Theatre Collective, Blk Girls Luv The Bard, Artist's Soapbox, Aggregate Theatre Company, Seed Art Share, and Brave New Classics.
Rebecca Bossen is a Durham-based performer, playwright, voice coach, and theatre educator. She holds theatre degrees from Duke University and Northwestern University, as well as an Advanced Certificate in Voice Studies from London's Royal Central School of Speech and Drama. She has worked in venues across the country, including Chicago Dramatists, Stage Left, Inkwell Theatre, the DC Source Festival, the Kennedy Center Page-to-Stage Festival, Burning Coal Theatre, Deep Dish Theatre, and Creede Repertory Theatre. She is the recipient of an Illinois Arts Council Fellowship Grant, an Ella Fountain Pratt Emerging Artists Grant, and her play Delilah Lee was named an O'Neill National Playwrights Conference finalist.
Tickets for the "As You Like It" film are currently available here. Streaming Jan 8-21.