Part One: Broadway, or Luck Be a Lady
"All life is six-to-five against."
As one of Damon Runyon's signature aphorisms reinforces, it was never a sure thing. When producers Cy Feuer and Ernest Martin landed on Runyon's fiction as the basis for a follow-up to their sole Broadway musical to date, 1939's Where's Charley?, based on the Victorian cross-dressing farce Charley's Aunt, they immediately turned to the composer of that previous hit, Frank Loesser, who readily took to the gamble.
Doubtless, Runyon's peculiar appeal, Prohibition-era tales steeped in such specificity, irony, and a droll objectivity accounting for their humor on the page, made them even more unusual a source for musical treatment than the Brandon Thomas chestnut. But adding to the uncertainty of the venture, Broadway exited the 1940s less invested in romance and fancy than a sober, searching realism. The towering dramas of post-WW2 America, Tennessee Williams' A Streetcar Named Desire and Arthur Miller's Death of a Salesman, blazed the path for such 50s classics as Come Back, Little Sheba, Tea and Sympathy and The Crucible. Reinforced by the sobriety of films like Gentleman's Agreement, On the Waterfront, and the landmark movie adaptation of Streetcar. American art ushered in an era of grit and frankness whose collective glare confirmed the truth of Williams' surrogate self in The Glass Menagerie, whose protagonist rhapsodizes, "nowadays the world is lit by lightning!"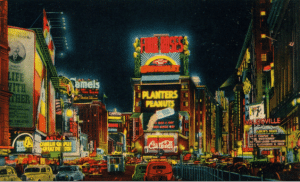 Neon Wonderland: New York's Times Square in the Age of Runyon.

(www.mindsimedia.info)
Despite its position as a national institution in postwar popular culture, even the musical was not immune. Long considered a delightful diversion, the genre's historical highlights were as significant for their relative rarity as for their trumping of standing conventions. Suddenly the musical had upped its game, as the 40s trended toward greater integration among the elements of a show (its story, songs, and staging) which retreated from traditions of freewheeling creativity toward a more contained verisimilitude. By the late 40s an unapologetic fantasy like Finian's Rainbow, intersecting love stories, political satire and leprechauns, would stand as the exception that proves the rule—under the influence of the teaming of Richard Rodgers and Oscar Hammerstein II, the musical was increasingly honoring logic and probability. 1943's Oklahoma!, followed by Carousel and South Pacific were heralded as the genre's welcome and long-delayed maturation.
But not everyone was buying. The musical still suffered a lack of full critical acceptance. In his groundbreaking 1946 study The Playwright as Thinker, the formidable scholar Eric Bentley dismissed the genre wholesale as crude folk art succeeding on stage through the thinnest distractions of song, dance, and spectacle, in Bentley's words, "embellishments on a scarecrow", which summarizes his patronizing stance. But even Bentley would change his tune a decade later, including Guys and Dolls among a quintet of representative American Dramas in an anthology of works due respect and esteem, lionizing the piece both "the best of all musical comedies" and "an organic product of American life." Like the Salvationists forming one half of the landscape of Guys and Dolls, Bentley became a convert.
Still, the accolades were in its future. In development, Guys and Dolls remained a wild card in a more regulated gaming environment, and its producers were doing what they could to even the board. Loesser proved an invaluable asset, writing prospective songs at the breakneck speed of a thoroughbred, while the thorny issue of a useable storyline seemed a bigger obstacle than initially thought. That pull of Rodgers and Hammerstein was strong, and the earliest concept for Guys and Dolls was a straightforward love story between two sharply opposed personalities (the most recent model being that hard-won romance between French planter Emile De Becque and Midwestern nurse Nellie Forbush in the Pulitzer Prize-winning South Pacific).
It took a dozen attempts to solve the problems with the book, before veteran comic Abe Burrows proved the perfect foil to that enervating tone of misguided sincerity. Burrows was an effortless match for the Runyon style, most notably in his beloved radio show Duffy's Tavern which, like Runyon's fiction, was long on locale, idiosyncrasy, and vividly vernacular characters and speech. It was Burrows who skewed the story toward comedy which paradoxically strengthened the romance. As with the complementary relationship between these structural features, Loesser and Burrows seemed as potently synchronous. For all of its sense of cohesion, Burrows was primarily fitting s story around Loesser's completed tunes and lyrics, the antithetical approach to the unifying principle of a Rodgers and Hammerstein show. That the seams aren't visible and the narrative and numbers dovetail so easily in and out of one another is a testament to the daring, artistry and imaginative breadth of both composer and bookwriter. The additions of the legendary George S. Kaufman as director and the robust Michael Kidd as choreographer only further sweetened both the pot and its prospects. Guys and Dolls opened in November 1950 and ran for an impressive 1,200 performances. Lady Luck had clearly descended and been charmed into turning all of those risks to rewards.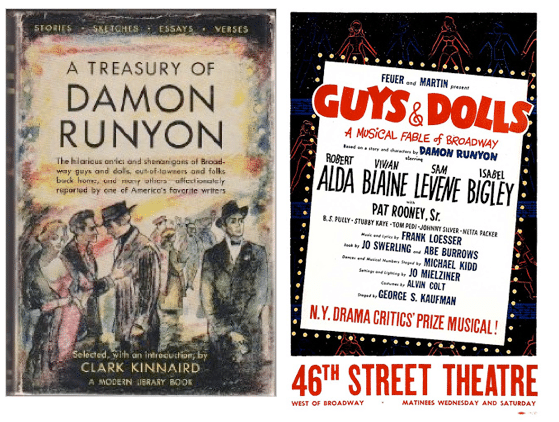 Rolling the Dice: The Colorful Denizens of Runyonland Sing and Dance on Broadway.
Those "six-to-five" odds from Runyon's opening epigraph had been outpaced and the show paid huge dividends. Guys and Dolls became an instant classic, and Loesser the hottest property in town. A resurgence in Runyon's work was one happy consequence (he had died in 1946), and Feuer and Martin's reputations were secured. They would again team with Loesser and Burrows for the perennially popular How to Succeed in Business Without Really Trying in 1961. And in a turn of events worthy of a Broadway musical, this final collaboration would itself garner the Pulitzer Prize, capping the careers of its creators and further cementing the status of the genre. As only the fourth musical to win the coveted award to that point, it also again argued for the equality of musical comedy with that more serious minded form of the musical play. Just as in Guys and Dolls, it was payoffs and happy endings all around. Perhaps the impetus lay in that initial challenge of probable defeat calculated in Runyon's "six-to-five" odds. As Runyon himself continued, that imbalance is "just enough to keep you interested." Audiences have been enraptured ever since, and the show's fervent gestation period mirrors that of the essential action of Guys and Dolls: shared leaps into the unknown with utopian hopes of reconciling conflicts, both instances speaking to and embodying "A Musical Fable of Broadway."
Next Up: Beating the Odds, Part Two: America and the World.
See the PlayMakers Summer Youth Conservatory production of Guys and Dolls July 15-25.
Click here or call 919.962.7529 for tickets or more information.