Jeff Meanza counts his nine summers overseeing the Summer Youth Conservatory as "incredibly close to my heart" and "without a doubt my favorite part of what we do here at PlayMakers." Jeff's managed the SYC program since its inception in 2007, presenting acclaimed shows like The Music Man, Oliver! and last year's hit production of Hairspray. So, it's only fitting that he crown his SYC experience by directing one of the all-time great musicals – Guys & Dolls.
Jeff says, "I love the source material of the original Damon Runyon stories. They're great chronicles of New York life in the 1930s. One of the things I'm interested in tackling by directing this show is exploring the musical within that context of Broadway in its early heyday.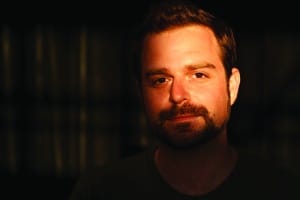 PlayMakers Associate Artistic Director, Jeff Meanza
"Guys & Dolls is rich in its history, its sophisticated storytelling, and its gorgeous music." – director Jeff Meanza
"We're creating a show driven by the deep need of the characters – gamblers such as Sky Masterson and Nathan Detroit, show girls typified by Miss Adelaide, and other larger than life inhabitants of the Great White Way of that era – these are all people who are fighting in a high stakes game of life. To that end, we've taken it back to the time when the short stories were written, the 1930s, and this has inspired every element of our production. We think this gives it a fresh and exciting new lens through which we can enjoy and appreciate it even more.
"The scale of this show is gigantic. We have to capture the dynamic energy of New York as well as the intimacy of two love stories. The set and lighting will be evocative of the darkly glamorous world of 1930s Broadway, providing a noir-ish quality to the New York scenes. In stark contrast, the bright, vibrant world of Havana will be saturated with color and energy. The costumes are richly period and inspired by photographs from the 30s.
"Come to experience Guys & Dolls like you've never seen it before. We'll have all the great songs and show-stopping numbers of the dazzling, iconic musical, but the characters will live and breathe as Damon Runyon created them."
Join us when Guys & Dolls comes alive at PlayMakers July 15-25.
Click here for tickets or more information or call our Box Office at 919.962.7529.