With the upcoming premiere of Molly Smith Metzler's The May Queen here at PlayMakers, many people are wondering—what exactly is a "May Queen"?
In most Pagan religions such as Wicca, the May Queen is called "The Maiden," more commonly known as the goddess of spring, the flower bride, the queen of the faeries, or the lady of the flowers. She is a symbol of the stillness of nature around which the world revolves and she stands for purity, strength, fertility and potential for growth. As spring nears, the May Queen is said to bring the blossoming and growth of new life.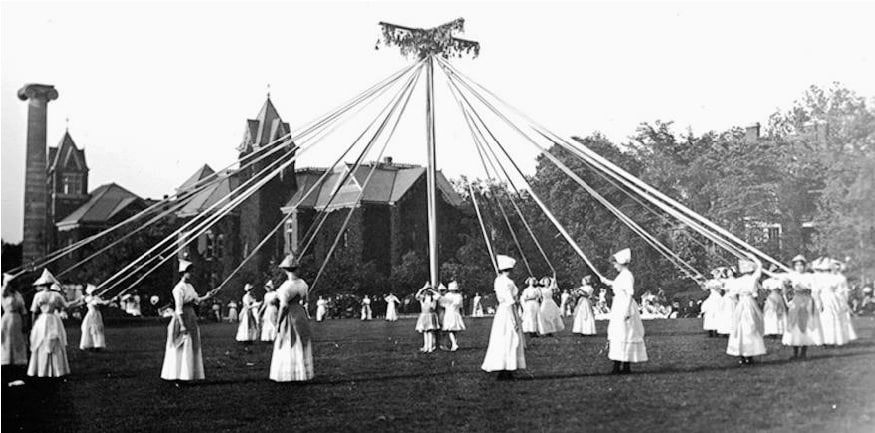 Image of the traditional Maypole Dance, a common ceremony on May Day.
"You must wake and call me early, call me early, mother dear;
To-morrow 'll be the happiest time of all the glad new year,—
Of all the glad new-year, mother, the maddest, merriest day;
For I' m to be Queen o' the May, mother, I' m to be Queen o' the May."
–Alfred, Lord Tennyson's "The May Queen"
In modern day May Day celebrations, specifically those held annually in Metzler's hometown of Kingston, NY, the May Queen is typically a teenage girl from a specific high school who is voted by her peers to commence the celebration of the coming of spring. Six girls are elected to the May court, but only one is crowned May Queen. She wears a white gown to symbolize purity and grace and is usually adorned by a crown of flowers. Her sole responsibility is to lead off all May Day celebrations (including the Maypole Dance and following parades), which is considered a huge honor. Those who are chosen to join the May Queen legacy are often pegged as "the chosen one," and can be compared to the typical homecoming queen—their beauty and popularity usually earn them the title.
"It's that chosen girl. And I think it's a blessing and a curse." –Molly Smith Metzler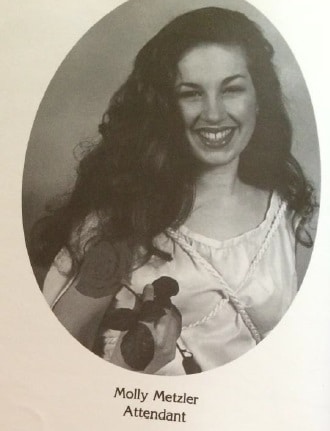 Photo of Molly Smith Meltzler on the 1996 May Court
While in high school, Metzler was actually on the May court, but wasn't elected May Queen. Fortunately, Metzler wasn't burdened by the responsibility of holding the title of Queen. Because being May Queen is considered a prestigious title, it often sets a standard for those who are chosen; those crowned May Queen in high school are predicted to live a lavish, exciting life, which inherently puts pressure The Chosen One for years after graduation. Metzler's The May Queen delves into the pressures of being the "perfect" Queen, and how that complicates her return home after failing to live up to those expectations.
Come see Molly Metzler's The May Queen at PlayMakers Repertory Company, onstage from November 22-December 11!
Click here to buy tickets, or call 919.962.7529.