Director, Desdemona Chiang.
At first, Leo and Vera seem to be an unlikely pair. Leo is 21-years-old, while Vera stands at 91 years young. Leo enjoys riding his bike cross-country, while Vera calls her neighbor daily to assure her she's still alive. Vera, played by Dee Maaske, is Leo's grandmother, but much time has passed since they last saw one another. After a heart-shattering loss, Leo, played by Schuyler Scott Mastain, shows up at Vera's door. His original plan to stay for one night turns into three weeks and a once improbable duo end up finding solace in one another.
Director, Desdemona Chiang, said she wanted to direct 4000 Miles because she loves plays that "explore family dynamics and human relationships." She definitely got what she bargained for with Leo and Vera. With two distinct characters lacking similarity at first, Desdemona wants the emphasis of the play to be placed on the fully developed relationship between Vera and Leo. She says it is the intricate moments between them that make 4000 Miles "both ordinary and utterly exceptional."
"It is a sweet, funny, and poignant story of two people who, as a result of an unexpected tragedy, find themselves connected and changed forever. "
Desdemona wants to ensure that the audience doesn't see Vera for her age, but for her vigor. She appreciates 4000 Miles for placing a character of Vera's age in a prominent role. Desdemona explains, "Americans are notoriously ageist—we usually regard the elderly as a social inconvenience and the discussion of death and dying to be uncomfortable, so oftentimes this particular demographic of people goes socially unacknowledged and ignored. It's so satisfying to be working on a play that puts a 91 year-old woman at the center of the story." She said Vera reminds her of her own feisty, sharp, unapologetic grandmother.
Costume designs, by Jan Chambers, will be contemporary and will provide further insight into the
contrasts between Leo and Vera. As a twenty-something "neo-hippie," Leo will be dressed in either casual jeans and sweatshirts, or bicyclist attire. Vera will be dressed in flowing, comfortable pieces to reflect the routine she has fallen into.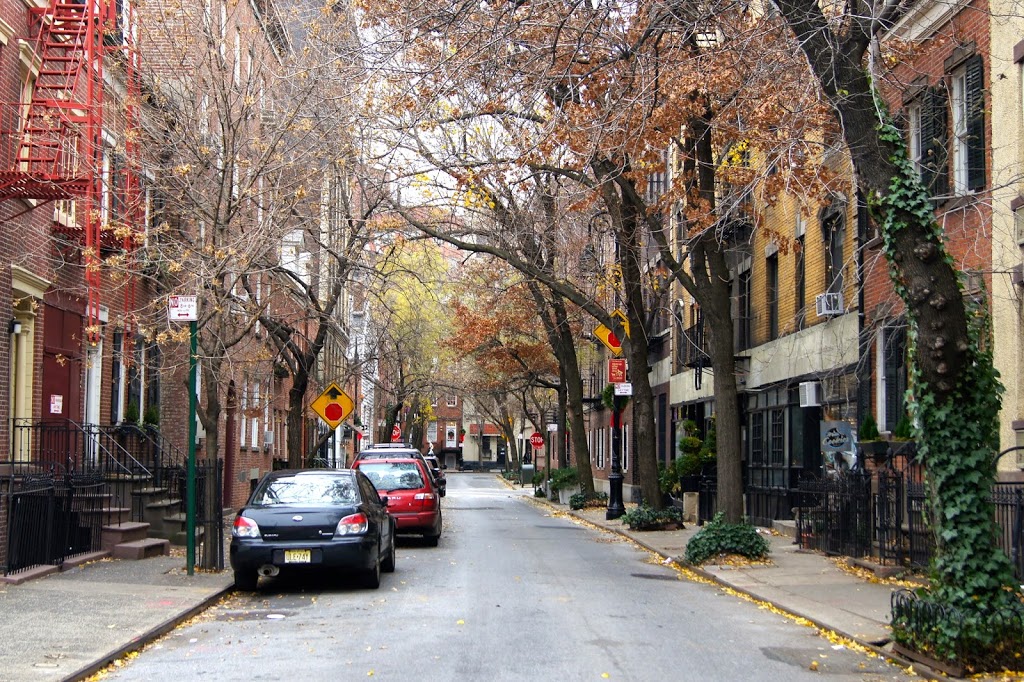 Commerce Street in the West Village.
The play is set in Vera's apartment in Manhattan's West Village. Desdemona explains that she and scenic designer,
Jan Chambers,
sought to create an environment that told the story of Vera's everyday life before Leo showed up on her doorstep. She explains, "The placement of furniture, books, dishes,and other household items are very deliberate, and speak volumes about the kinds of life patterns she has developed over the years, and how that pattern gets disrupted (in both good and bad ways) when Leo arrives."
The mood onstage will be set by lighting designer, Xavier Pierce. Desdemona said they will utilize the lighting to "establish rhythms and the storytelling inside transitions in between scenes." Desk and floor lamps will contribute to the sense of intimacy between the characters.
4000 Miles has been challenging at times for Desdemona because she wants to maintain the beautiful simplicity of the relationship between Leo and Vera . She explained that in our current theatrical world, it can be tempting to create the "the bright flashy thing, the big social statement, or the jazz hands dance number," but that in 4000 Miles, the nuanced, fully-developed relationship matters most.
"This is play that doesn't set out to change the world, yet the worlds of these two individuals are irrevocably changed."
What's Desdemona's goal? She said, "My hope is that by the end of the show, audience members will be gathered in the lobby calling their grandmothers or their grandchildren."
We invite you to experience the refreshingly honest, 4000 Miles, onstage April 1-19!
Click here for more info or call our box office at 919.962.PLAY (7529).