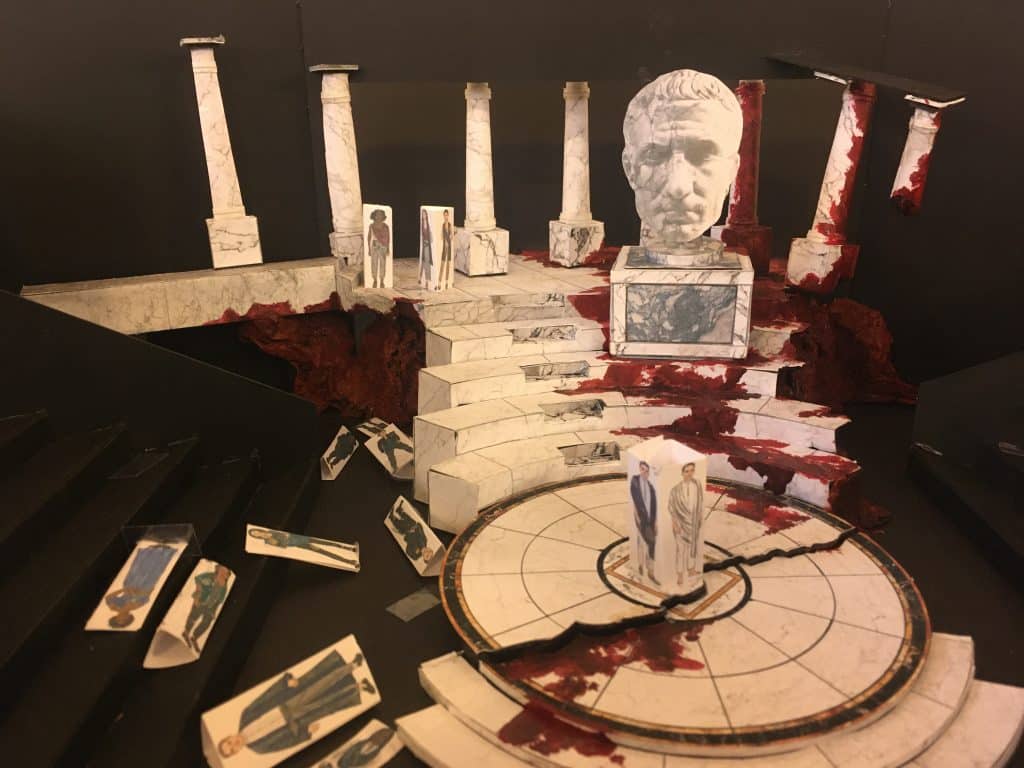 It is no spoiler that a production of Julius Caesar by William Shakespeare is going to have blood. While the PlayMakers production is, as always, a fresh look on the political classic, we won't be straying so far as to lose the bloody inevitable.
But how do you stab Caesar, bloody your hands, and have a clean costume and carpet for the next night?
PlayMakers Props Master Andrea Bullock is one piece to the gory puzzle. The props department is handling most of the "practical blood," but they certainly aren't alone. Costumes, scenic, and the creative direction are all impacted and involved in the containment, use, and production of blood in this show.
Andrea said that at this point, testing is the name of the game. The scene shop and costume department have provided her team with samples of fabric and seals to find the perfect blood "recipe." They all need something that won't stain, will wash out, but looks real on stage.
"We have our 'brand' of blood, if you want to call it that, pretty much figured out and know what's going to work best."
Props Master, Andrea Bullock
Andrea said one big consideration is containment. Even after finding the perfect recipe, all departments still have to work together to find out how the blood will get on and off stage. Designing the blood's entrances and exits is just as difficult as hard as designing blocking for the actors.
"I know when we want blood, I know how much blood we want. The artistic side of that is set to our artistic designer and our director," said the Props Master, "I figure out how to get it there."
Not-so-spoiler alert: Caesar dies. And whether it be troughs, a water pump, or blood packs, this production is not going to be short on gory drama. The props department will continue to test and innovate to make sure the epic life and death of Caesar—as well as its aftermath—look like the real thing.
And they are not doing it alone. We'll check in with the other departments in future blog posts to keep you in the loop!
Get your tickets now for this epic Shakespearean showdown.
Get tickets to Andrew Borba's Julius Caesar today, onstage March 4–22, 2020.