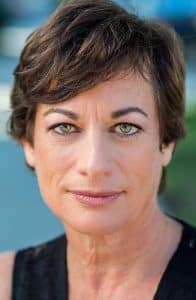 From Romeo and Juliet to Hamlet and everything in between, Lisa Wolpe has done it all.
The award-winning performer and director is making her PlayMakers debut as the infamous conspirator Gaius Cassius in our upcoming production of Julius Caesar, directed by Andrew Borba. Wolpe is known internationally for her performance style and ability to play leading Shakespearean roles in that male-dominated world.
"I've played Hamlet twice, Richard the Third three times, Iago three times—many male roles of substance. I played Lear when I was 30," Wolpe says. "There is no substitute for these huge, brilliantly-written roles. Having that opportunity has helped me grow as an actor."
"I think I've played more of the male roles in Shakespeare than any woman in history."
Lisa Wolpe
She's also directed for several Shakespeare companies and festivals across the United States and in Europe, recently completing a solo tour of Shakespeare and the Alchemy of Gender in the U.S., U.K., Czech Republic, Germany, and Canada.
Now renowned as one of the world's greatest Shakespearean actresses, Wolpe says she fell in love with Shakespeare at 19 years old, when she was introduced to Shakespearean texts by one of her English professors.
"My first Shakespeare play was As You Like It at UC-San Diego. I was an undergraduate, and it was in the graduate repertory. I stepped into opening night with book in hand and no rehearsal as Rosalind when the leading lady fell suddenly ill! Standing ovation. What a thrill! I was hooked!"
Lisa Wolpe
Wolpe later went on to train at Shakespeare & Company in Lennox, Maryland, where she trained in voice, fighting, dancing, and even professional clown, eventually coming to teach and direct there for over two decades.
In 1993, Wolpe founded the Los Angeles Women's Shakespeare Company, a world class, all-female, multicultural performance company.
According to a 2017 interview, one of the primary reasons Wolpe wanted to start an all-female company lie in the strictures of Elizabethan theatre, whose companies were all-male, women being forbidden from writing for and performing on public stages. She also had an eye toward maintaining a truly diverse company: "a multicultural company that is never more than 50% white, because we're aiming to bring voices to the stage."
To Wolpe, Shakespearean performance comes down to the basics, even—or perhaps especially in modern reimaginings.
"I think Shakespearean productions have favored sexy visual concepts over a true mastery of the text in recent years, so older actors like myself try to bring students back to the words, the structure of the verse, the heightened physical responsiveness to text running through the actors' bodies, what you hear and feel rather than what you see."
Wolpe also said in a 2017 interview that it's not just her versatility she wants to be known for.
"I didn't want my show to be about wonderful performance pieces that I could do brilliantly. I wanted to unpack something about the masculinity, through my body, that I find interesting. Juliet is a 13-year-old girl, and I'm somewhat androgynous and to play a perfect Juliet I have a very high standard." But for her to play Romeo? "There's really nobody else on the planet who's played Romeo that I know."
Wolpe says Shakespearean work, particularly Julius Caesar, still has humanistic resonance to it, with subjects of power, greed, and human nature all at play.
"I think in this election cycle you will see how nothing has changed much in the world of politics, greed, envy, and the inevitable power grabs that crash the system of democratic representation," Wolpe says. "The language is clear and direct and the production will be spare and lean, at just over two hours total. I am sure it will be worth your while to come and see this talented ensemble enact this fabulous Shakespeare play!"
Get your hands dirty at Julius Caesar, on stage March 4–22, 2020. Get your tickets today!