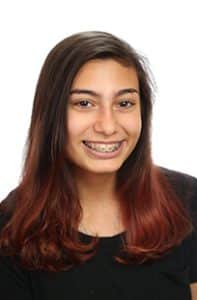 Summer Youth Conservatory student Kira Cornell is not exactly new to PlayMakers. "I've been coming here since I was three," said PlayMakers' youngest and fiercest fan. "I've been here for a really long time and I've seen a lot of shows." After all, her dad is PlayMakers' resident acting company member Jeffrey Blair Cornell, most recently seen as Henry Higgins in our widely acclaimed production of My Fair Lady.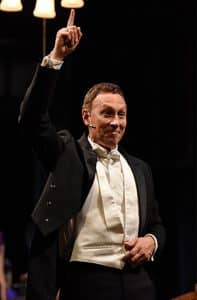 "When she was little, Kira used to hang out in the green room before a show I was doing and then she would maybe decide to see act two," said Jeff. "So she'd just go through the catwalk to stage left then just grab and open seat in the back. We would call it her seat. That last row in the upper part by the door. She'd just slip right in there."
From spouting the plot of Romeo & Juliet in her kindergarten class to getting lost among the vintage clothing in costume storage, it seemed only natural that Kira would follow her father into the biz. "I started doing theatre backstage instead of onstage," Kira said. But over her experiences backstage, she slowly took more and more notice of what was happening onstage. "I thought, 'That looks pretty cool!' and decided I wanted to be onstage. So I've been taking acting classes."
Having seen so many SYC productions throughout the years, the Theatre Intensive has been in her sights since she started middle school. As a rising freshman, she was finally able to audition for this year's production of Bye Bye Birdie. First time out, first time in. Kira landed a role in the all singing, all dancing ensemble.
What does Dad think of it all? "She's grown up in this building as a playspace. Whether it be the studios or coming to rehearsals in the rehearsal hall," he said. "She's always been here, so for her to actully be in rehearsal for herself seems pretty appropriate."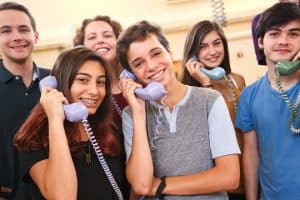 Kira seems to be taking to the actor's life pretty well. All the students are held to the same standards as our professional actors, expected to show up on time, sign in, and rehearse for eight hours a day, plus fitting and all the "fussing over" them, as Jeff put it. Kira loves it. "Rehearsing for eight hours a day gives you more time to work and more time to connect with your character," she said. "It also makes it feel professional."
"Seriously though," said Jeff, "for kids who are thinking about it as a career, this is it. It's not what you were doing in high school. As hard as you've been working in high school that's sort of secondary."
See Jeff in the audience (probably) and Kira on stage with the rest of the Summer Youth Conservatory in Bye Bye Birdie. All tickets $15. Get yours today.