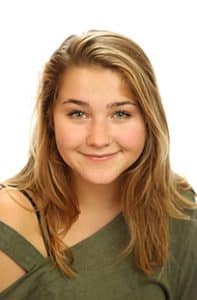 Four summers ago, Carolina Friends School student Lili Whittier auditioned for her first Summer Youth Conservatory Theatre Intensive. "I had heard a couple of my friends talking about it at various points," she says about the first time the program crossed her path. "They had gone through and just really enjoyed it and thought it was the greatest. So I decided in the spring of my freshman year that I should audition."
It turned out to be a good choice. Her first time out, she landed the soprano lead, Penny Pingleton, in that summer's production of Hairspray. "I came in my first year pretty terrified because it was a lot of older kids my first year—way more upperclassman than underclassman," she said. "Having that stability in the lead role gave me the confidence to come out of my shell and talk to people and show everyone what I had." And now, three years later, she's landed another lead role as Bye Bye Birdie Kim MacAfee, the high schooler who must choose between her going steady with Hugo Peabody or throwing it all away for a chance with rock 'n' roll heartthrob Conrad Birdie. "It's a really different experience because this group is a lot of younger kids. So it's a leadership role as well as something really awesome to be able to dig into in my last summer here."

"How lovely to be a woman, the wait was well worth while.
How lovely to wear mascara and smile a woman's smile.
How lovely to have a figure that's round instead of flat.
Whenever you hear boys whistle you're what they're whistling at."
"How Lovely to Be a Woman,' Bye Bye Birdie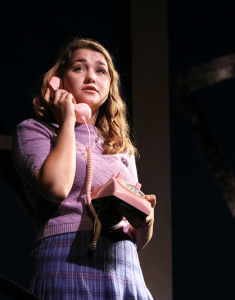 At first, Lili didn't see very much in common between herself and the character she plays in Birdie. The play itself seemed a bit dated to her and the characters very much of their time. But as she delved deeper into the show itself and the character of Kim, she came to appreciate their shared humanity. "I've been finding more of myself in Kim as she goes through this process of wanting to be an adult so badly and be this sophisticated grown woman," said Lili. "And by the end of the show she returns to her essential self, which is a teenager who adores a popstar and has a boyfriend who she loves." And being her essential self becomes enough for her.
It's this quest for commonality that Lili sees as her biggest takeaway from her years of experience at SYC. "Acting is really really empathetic work, so it lets you see the world through someone else's eyes. And even if you don't relate to that person or like them as much as—or if they don't hold as true to your ideals—you have to find some way to connect with them and make them believable, which I think is really valuable for just about anything you can do."
As to advice she has for students considering the program next summer? "Definitely audition. It will change your life. It's my favorite thing in the world. I would not rather be anywhere else."
Catch Lili Whittier and the rest of the Summer Youth Conservatory students in Bye Bye Birdie for only $15. On stage July 19–30. Get your tickets today.