SYC Returns with New Director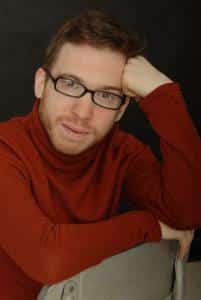 It's that time of year again! Next week, over thirty high school students will descend upon PlayMakers Repertory Company to participate in our Summer Youth Conservatory. This year, students in our programs will work with resident professionals—on and offstage—to produce that joyous piece of musical theatre Americana: Bye Bye Birdie. And we're thrilled to welcome Michael Perlman to PlayMakers as a first-time SYC director. Based out of New York City, Michael has directed at such illustrious places as Goodspeed Opera House, Trinity Repertory Company, and Roundabout Theatre Company, in addition to being an award-winning playwright himself. And he couldn't be a better fit for the program.
"I know how much doing theatre meant to me when I was younger," he said of coming on board with SYC this season. "I'm really inspired by the young adults who are part of the program and reminded of the power that theatre has to change the course of lives."
For Michael, SYC is all about the storytelling—that and the chance to influence the ways in which these students understand musical theatre. "When Vivienne and Jenny called me to talk about the program," he said, "I was immediately excited by the chance to do a big musical with an ambitious group of actors."
Classic Americana
Bye Bye Birdie, of course, is a classic musical about small-town America, teenagers, and rock & roll in the 1960s. Teen heartthrob Conrad Birdie has just been drafted and as a final publicity stunt, he's selected Kim McAfee of Sweet Apple, Ohio to give him a farewell kiss on live television. But Kim's boyfriend is not so excited by the prospect. Add a forbidden love subplot and the universally relatable challenges of parent-teen relationships, and you've got musical theatre gold on your hands.
"It's about a group of people who get swept up in the vortex of a charismatic young celebrity and have to find their ways back out of it."
Michael Perlman, Director
And of course they sing a cadre of spectacular songs along the way, including "Kids!" and the memorable "Put On a Happy Face."
Not Just a Happy Face
"For me," Michael continued, "Bye Bye Birdie is very much about the rediscovery of our essential selves. In a time—and for our cast especially—where we're constantly checking in with social media as a barometer for how to define our own successes and failures, it feels like a perfect chance to check in with this story about how to ignore distractions and rediscover the simple joys of loving the people around us."
At the same time, Michael is aware of how easy it is for classic musicals to seem dated. "I'm looking forward to finding ways to make this story feel modern and personal to each one of us," he said. Much of this will be accomplished through the design: set, costumes, and lighting together. The bright and exciting world of 1960s American Bandstand—with all its letterman jackets, poodle skirts, and vibrant colors—will help to capture the ways in which the modern world can be overwhelming and distracting.
"The process has been fast and exciting," said Michael, "I think you'll discover a lot of surprises."
PlayMakers' Summer Youth Conservatory production of Bye Bye Birdie is onstage July 19–30 at PlayMakers Repertory Company. All tickets are only $15.
Be the first in line for tickets by signing up for our emails!