It's a good thing Narelle Sissons is up for the challenge! PlayMakers' production of Arthur Miller's The Crucible is seated "in-the-round," a diversion from the Paul Green Theater's usual three-sided thrust stage.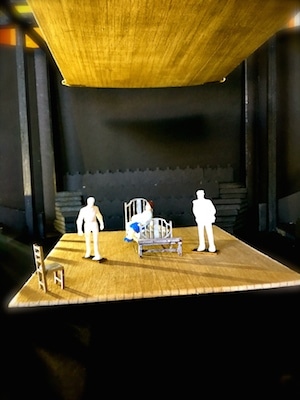 "There hasn't been a production in-the-round here, so we thought we would try to do it," she explains, making sure the additional seating area feels like a part of the rest of the theatre. Having the audience sit on all four sides of the stage immediately changes the feeling of the production. Narelle says, "It creates a kind of isolated island in this room."
Isolation is an important theme of the play, as the fear that starts in the humble homes of the townspeople. Gradually, the fear becomes less and less isolated until it is blown up to drastic proportions. Sissons along with director Desdemona Chiang wanted the set design to reflect this concept, so the staging as well as the set itself change as the play progresses.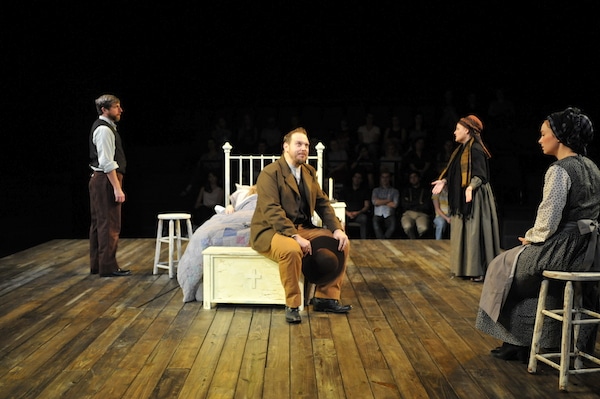 Staging the production in-the-round "helps create more intimacy between the actors and the audience," Narelle said. Her design also addresses the timelessness of the play in some pretty surprising ways, suggesting that the lessons learned apply to audiences today as much as it did when the play was first produced. Reviewers have raved about Narelle's design and its ability to transport the audience through time:
Narelle Sissons' scenic design clarifies the where-and-when, whether the intention is literal or figurative…The jarring transition between the old and the new crucible is this version's most memorable moment.The News & Observer
Designer Narelle Sissons uses the theater's technical resources impressively, including one spectacular scene change and a startling outburst of hysteria… Triangle Arts & Entertainment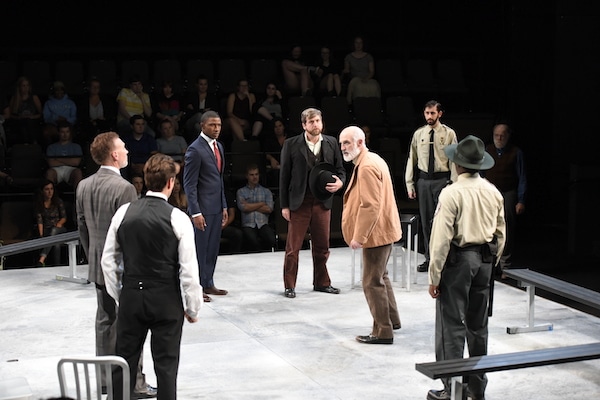 Come experience Narelle Sissons' innovative set design yourself! Click here for tickets or call 919.962.7529.