PlayMakers' 1977 production of The Crucible gripped audiences then—and still, 40 years later, the play resonates with audiences now more than ever. PlayMakers' very own David Adamson has actually worked on both productions, as has Mark Phialas who played Thomas Putnam in 1977 and now serves as understudy for the roles of Corey Giles and Francis Nurse. Each of them gave us insight on how the productions compare and contrast with one another, and how The Crucible has managed to retain its vibrancy and relevance throughout the years.
Mark Phialas at far right in PlayMakers' 1977 production with Flair Bogan, Patricia Slover, Frank Raiter, Esther Tate, Brian Keeler and Mina Keeler. Photo courtesy of N.C. Archives.
The first production in 1977 was held in Historic PlayMakers Theatre (seating capacity of around 280), whereas the current production is held in Paul Green Theatre (seating capacity of around 600). "It was a lot of people in a small space," David comments. As assistant stage manager in the first production, David was wedged between the wings, ready to give out cues when necessary. Mark agrees, stating, "Historic PlayMakers Theatre is claustrophobic in comparison to the facility the company now uses."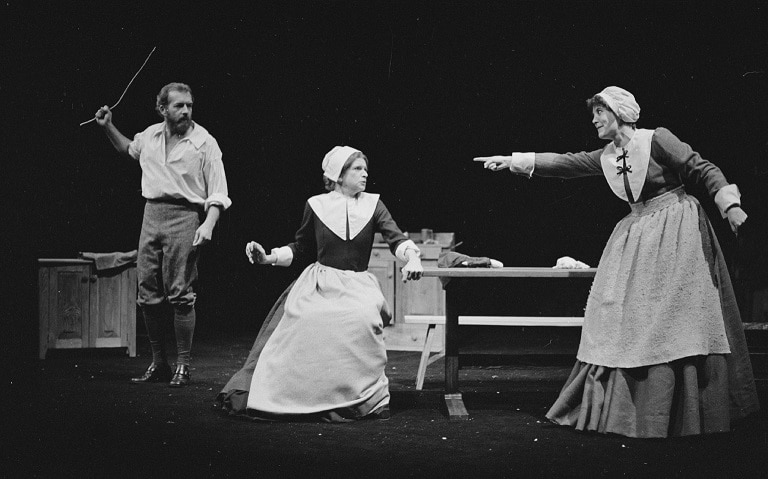 John W. Morrow, Jr., Darrie Lawrence and Julie Ferguson in 1977's The Crucible. Photo courtesy of N.C. Archives.
The production now takes place 'in-the-round', giving audiences a broader scope of the actions and emotions of the actors.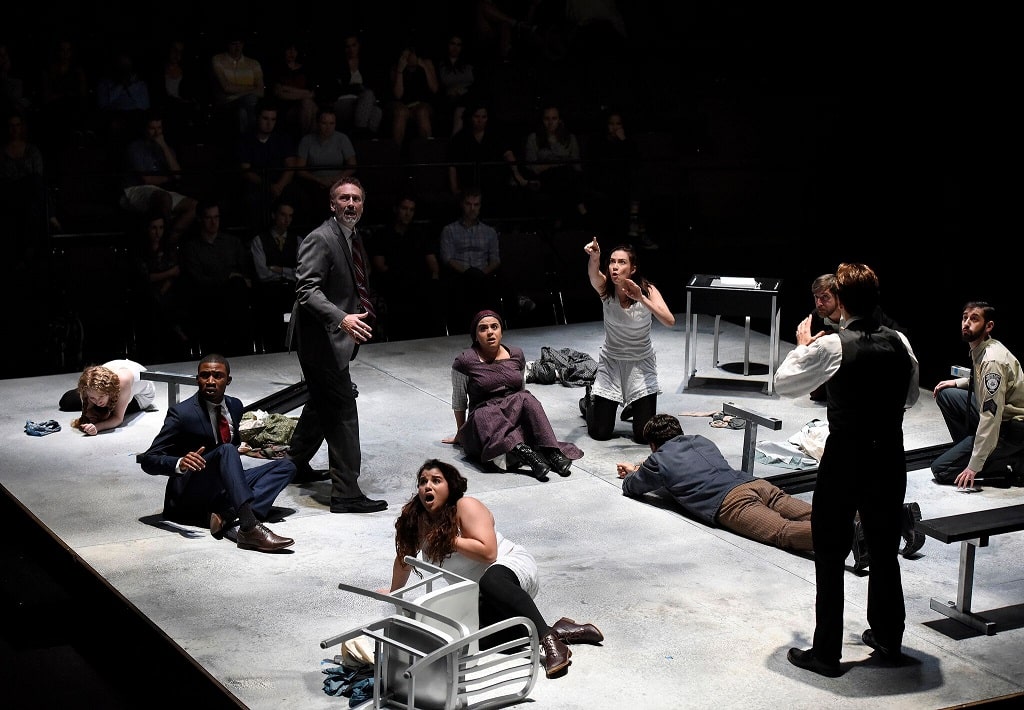 The cast of 2016's The Crucible. Photo by Jon Gardiner.
"[Now] the entire madness is presented in the middle of the room, so to speak, and thus, emanates in all directions." Mark Phialas
Although the audience makeup was relatively similar to what it is today, many community members at the time shared mixed emotions about PlayMakers' transition to becoming a professional company. "[PlayMakers] was a 'town and gown' type of company", David told us. PlayMakers had originally been an educational, communal company, and the transition to a professional company meant that "regulars" who had previously been able to perform on stage were no longer cast as often. However, David and Mark agree that the transition was necessary in order for PlayMakers to evolve for future productions.
"One might say we were at the right place at the right time, but just a little bit late or early, hinging on point of view." Mark Phialas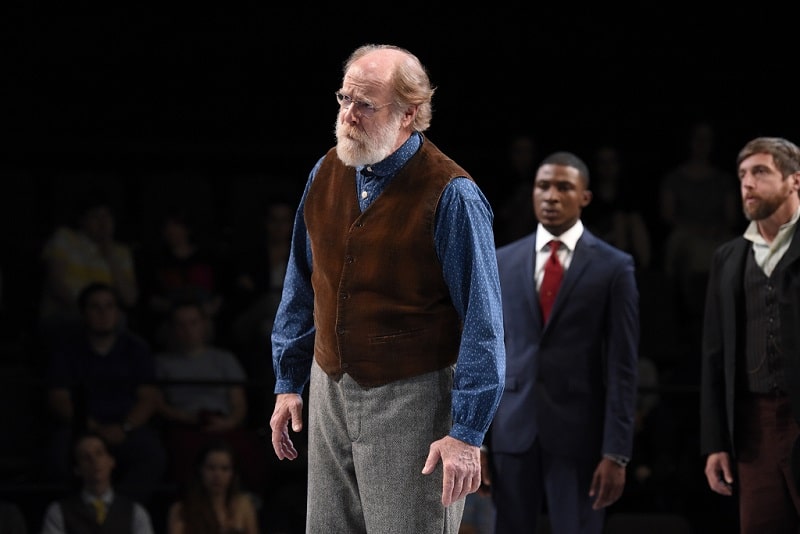 David Adamson in 2016's The Crucible. Photo by Jon Gardiner.
PlayMakers' growth as a professional company has allowed classic plays like The Crucible to be transformed into a greater, more relevant piece. "In 1977, there wasn't really political comparison [between the play and current events]," David shares. The costumes and setting of the 1977 production closely mirrored the original work, whereas the current production has been radically modernized to show the work's current political and social relevance. "We're in an absurd, unimaginable phase in American politics," Mark states, "not at all removed [from the setting of The Crucible]." Both agree that based on America's current political state, the production's themes are more applicable now more than ever, and can be seen through costumes, setting, and overall tone of the play. The revamped production adequately depicts our modern era, and makes the thematic battle between truth and fear more apparent than the 1977 production.
Ariel Shafir as John Proctor and Schuyler Scott Mastain as Reverend Hale. Photo by Jon Gardiner.
"This version is extraordinary."David Adamson
Of course, no production can be deemed extraordinary without extensive preparation. "We were on our feet as soon as we got the script," David tells us of 1977, "with little to no prior research on how to fully emulate the characters". Extensive preparation for the current production has paved the way for a new, revolutionized version of The Crucible; the amount of research and time both director Desdemona Chiang and the actors put into the production has allowed the play to truly have its own 'stamp'of uniqueness.
Despite the vast differences between PlayMakers' two productions forty years apart, The Crucible holds up and lives on vividly in its rightful place in the American canon. "This is strictly on a personal level," Mark shares, "I am so lucky that I was given a second chance to get 'to know' this amazing work. My view is that The Crucible resonates deeply in 2016, particularly the months of October and November, every bit as strongly as I suspect it did in 1953 [when it was first written].
Come see PlayMakers Repertory Company's revolutionized production of The Crucible in its 40th anniversary, onstage October 19- November 6.
Click here for tickets or call 919.962.7529.