by Jules Odendahl-James, Director of Edges of Time
Marvel Cooke exists on the edges of time. You won't find her name at the center of chapters about famous Minnesotans, labor organizers, Black journalists, citizens who stood up to McCarthy, devout Communists, even nonagenarians. These are all roles she played, and she was both remarkable and unassuming. "No one expected to see a middle-class woman on the picket line, but there I was." The actions she took, whether quitting a job on principle, starting a union, leading a strike, joining a radical political party, refusing to incriminate colleagues, were simply the right thing to do. So, she did them.
Marvel Cooke speaks to us from the edges of a moment in time. 1963. A moment of transformation of the news industry where she spent much of her early career. A time of emerging television news and a heyday of the American printed press. It is also the edge of the Civil Rights Movement and an era of public unrest over racial inequity that has smoldered and reignited over the decades and still demands attention, reckoning, reparations.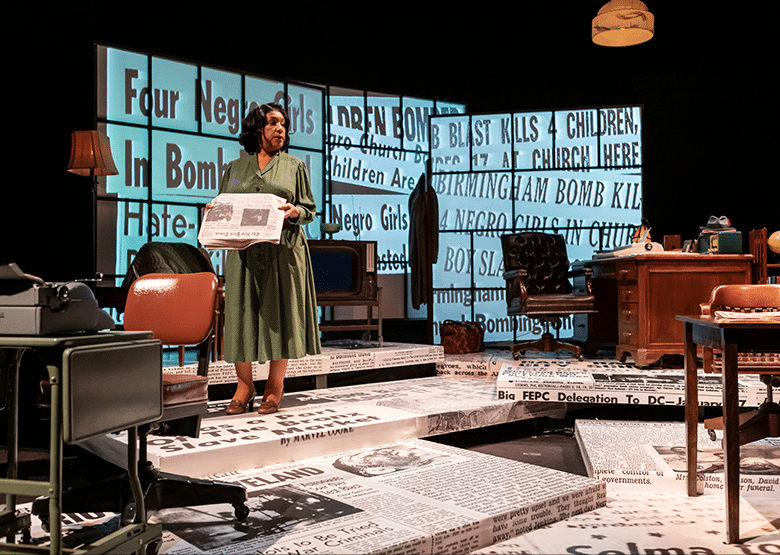 Photo of Kathryn Hunter-Williams in
Edges of Time
by Alex Maness
Marvel Cooke reminds us that our freedoms teeter on the edge of time. While the 2016 election inspired Jacqueline's exploration of journalism and press freedoms, finding a figure of such resonance was quite happenstance. And as the years of the Trump administration passed, we found those parallels deepened. Our dismay grew that we were experiencing not just a new iteration of a government misinformation but its unparalleled magnification and employment in public policy. While the bully pulpit of that administration has ended, it is both noteworthy and troubling that in the week of Edges' first streaming premiere there was an act of violence in Atlanta where multiple Asian women, many immigrants to the US, were murdered and in the aftermath we demanded to know their names (clearly and accurately pronounced), to learn their personal and complex stories, and clamored for journalists from the community to be the ones to render these portraits ethically, with authority.
Marvel's demand for "the whole story" remains as urgent and essential as ever. We hope it speaks to you, loud and clear, across the edges of time.
---
Don't miss a special encore streaming presentation of Edges of Time in honor of World Press Freedom Day, May 3-9.