When the PlayMakers production of The Cake opens this weekend, it will mark Bekah Brunstetter's home state professional debut. Unfortunately, she won't be in North Carolina to see it.
You see, she'll be walking the red carpet at the Emmy Awards. As one of the head writers for NBC's hit drama This Is Us, Bekah has a little share in each one of its eleven nominations. And it's no wonder. "She has a really empathic imagination," says Isaac Aptaker, a showrunner for "This Is Us," "She's able to come from every character's angle and get in everyone's head. She is just able to tap into anyone's experience."
This homecoming is a natural one. Not only did Bekah grow up in North Carolina—Winston-Salem, the very place where the play is set—she's also an alumnus of UNC's Department of Dramatic Art and a PlayMakers run crew veteran. "From the minute I started writing the The Cake, I was thinking in the back of my head, 'Gosh, I hope Playmakers does it,' because I really wanted to see it performed in North Carolina." She wanted to take her empathetic imagination and give it to others. "Even though Chapel Hill is quite the liberal community, I feel like most people in North Carolina have conservative people in their lives and are trying to have conversations with them."
Bekah herself has been having conversations with her conservative loved ones all her life. Though she is the daughter of conservative NC State Senator Pete Brunstetter—the sponsor of Amendment One—her own views are considerably more liberal than those of her parents. "I support gay marriage," she says, "but I see how painful it is for people to accept it when they have this belief system that has brought them comfort and joy and structure their entire lives. We on this side don't give enough respect to that struggle."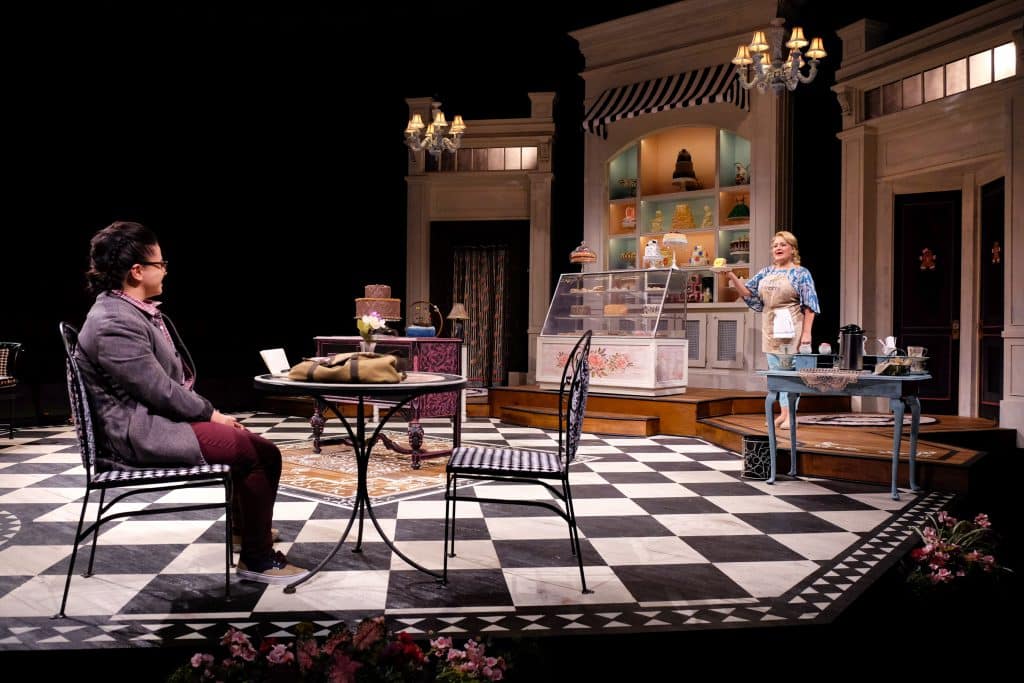 Her goal with "The Cake" was to give that struggle the respect it deserves—the respect she affords her own family members. "I wanted to write a play in which a conservative person was sort of the hero and show them going on a journey of rethinking where their belief system comes from," she says.
Della is kind of a hybrid of relatives and women I've met at church. Not any one person in particular, but she's a voice in my head representing these really warm, loving women who are hilarious in their own way and have an emotional strength and intelligence that is not acknowledged very often.–Bekah Brunstetter
While she won't be able to make it for opening, Bekah will be coming to the show with her family on closing weekend. "I consider myself a conservative empathizer. I've always floated in the middle of these two spaces, and there's not much middle there anymore."
Maybe, just maybe, she'll bring an Emmy Award with her to that middle.
See The Cake on stage at PlayMakers Repertory Company, September 13 through October 1. For tickets, click here or call 919.962.7529.