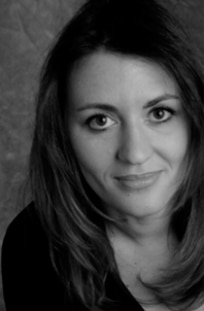 Director Lisa Rothe has been captivated by the story of Detroit '67 since she saw its premiere in 2013 at the Public Theater. "At the heart of it all is a family, and everyone can relate to that on some level. We experience their love, anger, joy, loneliness, passion & rage as if it were our own," she relates.
Detroit '67 is the first of a 3-play cycle by playwright Dominique Morisseau about her beloved hometown of Detroit. Lisa describes it as "a story that tracks the lives, dreams and frustrations of a Black family in the hours leading up to the Detroit rebellion of 1967 and the explosive days following."
Accented by the music of Motown, this play reminds us of a very poignant piece of Black American history and how the love and loyalty of family held it all together.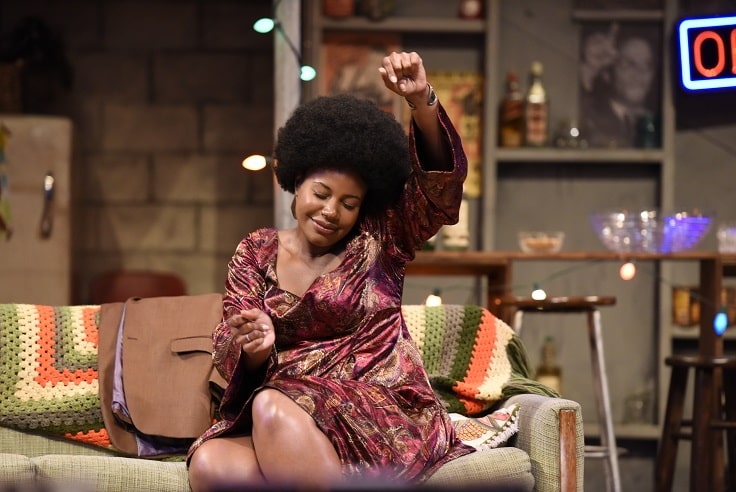 Tangela Large as Bunny in Detroit '67. Photo by Jon Gardiner.
Music plays an important part in this story as it takes place in the home of Hitsville, USA itself. "Motown is woven through the fabric of the play and of these characters lives. I know that in writing this play, Dominique was looking for songs that had a particular point of view or message, that spoke to where the characters were or what they were going through at particular points in their lives," Lisa says. (You can listen to our Detroit '67 playlist here) She notes that the music strongly adds to the spirit of the play and really gives the audience a sense of the world the characters live in.
It's about this brother and sister and their differing world views. It's about how they maintain that thread of family through their differences while the city is wrestling with its own discord…The play asks where do we go next, especially when a new member is added to your community. Are there too many wounds to come together and heal? Dominique Morisseau
Lisa sees a clear connection between the racial tension and turmoil evidenced in Detroit '67 and the events happening around the country now in 2016. "It is not difficult to conjure up images of black men being harassed and shot, because we see them every day on the news," she says.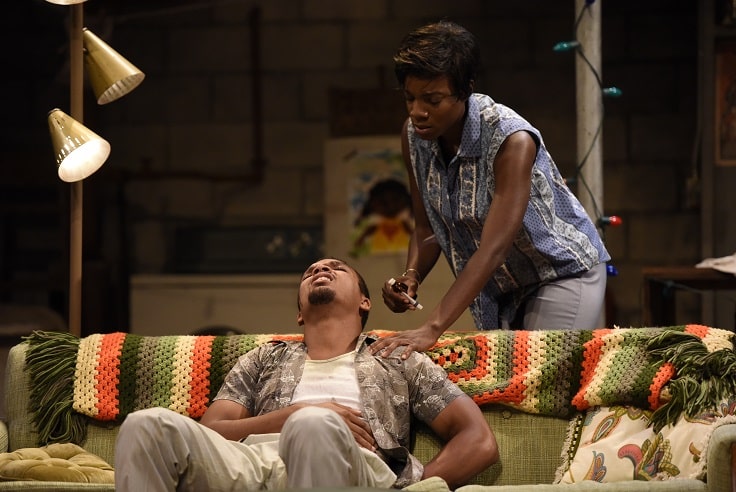 Myles Bullock as Lank and Rachel Christopher as Chelle in Detroit '67. Photo by Jon Gardiner.
Assistant Director JaMeeka Holloway-Burrell adds that Morisseau's work finds itself in the middle of the same conversation and dialogue of the likes of Lorraine Hansberry and August Wilson. That kind of precedent can pose a challenge, she says, in which actors and directors are expected to perform and direct the work a certain way. Yet, JaMeeka says, "as directors, it is our job to see and then compel the actors to look at these characters through a new lens, to approach these stories with the same in depth analysis that you would with the work of O'Neill, Chekhov, Ibsen or any other work with a narrative that differs from one that's familiar to ones trajectory. Just like black people's experience in America, these characters share a much more complex journey that can't be summed up in the 130 pages of this play."
Approaching the very important history reflected in the play through this human, compassionate lens is what has give Lisa's direction of Detroit '67 its impact. While INDY Week states, "You can't see the footage of burned and bombed-out buildings onstage … But you know director Lisa Rothe and set designer Lee Savage clearly have," The News & Observer notes, "Director Lisa Rothe gets vivid characterizations from the actors playing the close-knit friends." Audiences across generations are connecting with the play in deep ways and are struck by the relevance of the 50 year old story. One audience member wrote simply, "I was in Detroit in 1967. The play brought it all back on a very personal level."
Detroit '67 plays through October 2. Join us for this strikingly timely story.
Click here for tickets or call 919.962.7529.