In Stephen Massicotte's Mary's Wedding we follow Mary and Charlie through a dream sequence the night before Mary is supposed to get married. Costume designer, Jade Bettin's, research coupled with her evident passion for the play have produced designs that are detailed and multifaceted. They create a canvas for actors Carey Cox and Myles Bullock to paint their poignant story.
Because the play takes place during a dream, Jade explains that the clothing must be bound in reality, but that there is some leniency. Mary is seen in a white lace nightgown, but Jade explained that the time period worked to her advantage. Many dresses in the 1910s worn during the day were similar to nightgowns. Women sported dresses that looked similar to modern lingerie with a great deal of lace detailing.
The dress worn by Mary is quite personal to Jade. Her interest in costume design was sparked by her mother. Her mother was a seamstress and Jade said she received her first sewing machine when she was in 5th grade. She remembers spending hours sewing together. Since her mother's passing eight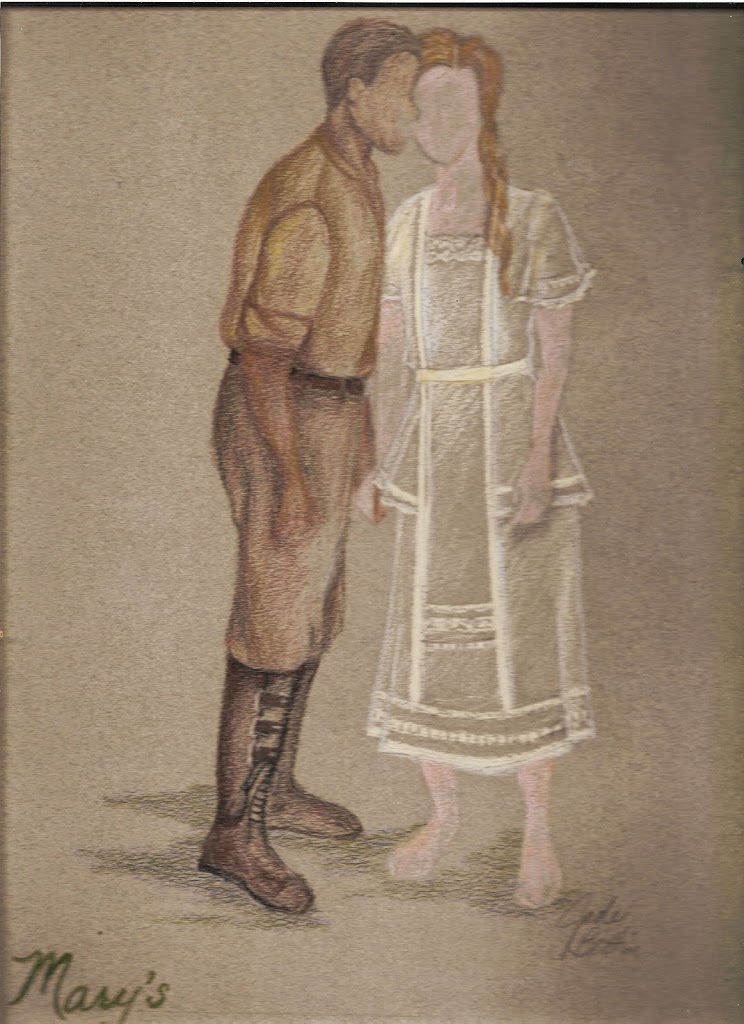 Jade's final rendering.
years ago, Jade puts elements of her mother onstage in the clothes she designs. All of the fabrics, laces, and trims of Mary's dress belonged to Jade's mother, making this design a very special one.
Jade has a deep interest in the intersection between fashion and history. Her extensive research of images can be seen on her Pinterest board
here
. It's filled with landscapes of Canada and France, images of silky white lace dresses, and clothing worn by cavalry men.
Charlie's costume had to serve multiple functions. Charlie works on a farm and rides horses, so he is seen in a neutral button up shirt, riding pants, and lace-up boots. Jade ensured that elements of his costume would also fit in a battlefield setting with details like his stand collar. Small details such as this indicate a change in character onstage.
See Jade's personal, adaptive designs for Mary's Wedding onstage April 29th to May 3rd!
Click here
for more information or call
our box office at 919.962.7529.