"Imagine a mashup of Treasure Island, Harry Potter and Monty Python, involving magic, friendship, first love, and flying cats. Something for everyone!"
Director Brendon Fox describing Peter and the Starcatcher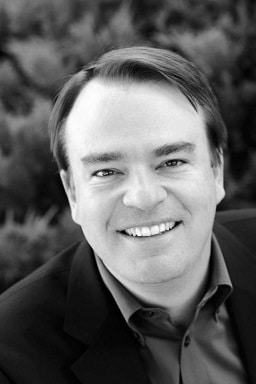 Most children have fantasized about flying, and director Brendon Fox was no different. For him, flying meant freedom and exploration, and more importantly, escaping adults who told him what he could and couldn't do.
Brendon, in addition to directing at theatres across the country, including Opus and Angels in America for PlayMakers, is an Assistant Professor of Drama at Washington College in Maryland. He says that as much as he wanted to catch a production of Peter and the Starcatcher in the past, he's glad he didn't have the chance as this has allowed him to come to our production with fresh eyes.
Brendon confides that he's fallen in love with so many things about this production: "The play manages to capture a sincere sense of wonder and imagination." It incorporates music and puppets, while holding onto the imagination required to play "make believe."
Peter and the Starcatcher tells the story an orphan boy with no name and a Starcatcher-in-Training in the late 19th century, as they strive to keep magical "starstuff" out of the hands of pirates and other nefarious characters.
"The young people having adventures in Peter and the Starcatcher have the time of their lives, encountering dastardly pirates, crazy weather, animals out to eat them, and exotic natives of foreign islands. This show invites us to live vicariously through them – to see the world through their eyes, full of danger, joy, laughter, and even experience some hard lessons about growing up. "
The sheer size of the production presents challenges and opportunities for the cast and crew. Brendon compares the scope of Starcatcher to that of a Shakespearean production with a large cast, many locations and interpretations unique to each situation.
"The cast has to be incredibly versatile to transform into so many characters, often in front of the audience. The design team and I have spent six months going over every moment and location in the play, and have storyboarded (like a film shoot) how we are going to evoke every location and approach events ranging from a storm onstage to a dense jungle."
This has put the creative team to the test like kids playing with found objects and using their imagination to create a pirate ship or an island. Brendon says this encourages audiences to fill in the blanks. "We're not trying to be too literal or spell things out for those watching the play." Ideally, he wants the audience to view the show through the eyes of a preteen, though the show is full of humor, heart and magic for all ages.
Ready to fly? Join us for Peter and the Starcatcher November 18 – December 12.
Click here or call our Box Office at 919.962.7529 for tickets.