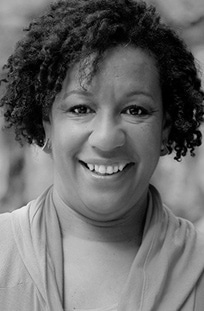 Kathy Williams Quick Facts
First show ever: Oliver! at Alice Deal Jr. High
First professional show: Gypsy at ArtPark NY
First show at PlayMakers: Constant Star (1999)
Favorite role so far: Impossible to name just one! The Angel in Angels in America, Wiletta in Trouble in Mind, Alma in Yellowman
Favorite show at PlayMakers you weren't in: Sideman

Theatre to Change the World
When longtime company member Kathryn Hunter-Williams first picked up Lorraine Hansberry's A Raisin in the Sun at the tender age of 12 she was bowled over by its beauty and power. "I thought, 'This play could change the world!'" And she's been striving the change the world through theatre ever since. From her hometown of Gary, Indiana, she attended the UNC-School of the Arts in Winston-Salem for her undergrad before coming to Chapel Hill for graduate work. Five years ago it all came full circle as she got the chance to to play Lena Younger in A Raisin in the Sun as part of our resident acting company. But since then, her attention has turned from classics to developing new work.
As co-director of Hidden Voices, Kathy has made it her mission to to challenge, strengthen, and connect communities through the transformative power of the individual voice. For the past five years, that has meant having deep conversations with men on death row all across the nation. And now, the time has come to make those voices heard here at PlayMakers. With a script penned by Hidden Voices' co-director Lynden Harris, Kathy will helm the PRC2 production of Count later this month. "After working on this project for five years I am looking forward to sharing their stories with the world. Sharing their humanity with an audience is profound. These stories shape how we view justice, mercy and forgiveness. There is also humor in their world, which can help ease the soul and heal the spirit."
More to Come
As if directing a new work wasn't keeping her busy enough, Kathy will also star in the title role of Colman Domingo's Dot this fall. But she's nothing if not excited about the challenge. "The story brings forth many issues around eldercare, dementia, and family love, with both humor and pathos. I love that it is set around Christmas. The holidays are always ripe for drama!" Add to that a full course load of teaching both undergraduates and grad students here are at the University and you're most likely to find Kathy spending her 10-minute rehearsal break frantically answering emails. When the craziness dies down though, you're most likely to find her relaxing on the beach with a great book. "And no emails!" adds Kathy.
Get your tickets today for Kathy's production of Count, on stage August 23–27. Then mark your calendars for her season debut on the mainstage in Coleman Domingo's Dot, running November 22–December 10.