Meet the many impressions of Bigger Thomas, Chicago's own Native Son.
PlayMakers and the Chapel Hill Public Library asked community artists to submit original artwork, inspired by Richard Wright's novel Native Son or any of the novel's screen or stage adaptations. Seven pieces were selected as finalists, along with Daniel Siler of Carrboro selected as the $500 Grand Prize Winner and Libby Fosso of Chapel Hill selected as the Special Edition Poster Winner.
Native Son follows the life of Bigger Thomas, a South Side native in a post-Depression Chicago where African-Americans are held in the grip of systemic oppression, poverty, and violence. Here's what each of our finalists said about the inspiration behind their work.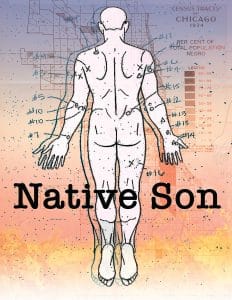 Daniel Siler — Grand Prize Winner
Carrboro, NC
"How do we apportion blame when someone takes a life? Bigger Thomas killed a white teen of privilege, then hid the evidence of that crime. Officer Jason Van Dyke shot and killed unarmed teen Laquan McDonald, and the Chicago PD hid evidence of that crime. There are parallels between the systemic social issues and personal choices of both cases."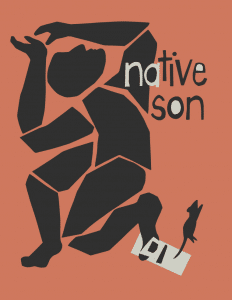 Libby Fosso — Special Edition Poster Winner
Chapel Hill, NC
"The early image of the rat in a trap stayed with me. Bigger never gets free and his observation that 'they kill you before you die' is a sad commentary on this. In both designs, the trap is locked on the man's foot—and the rat runs free. There is a futility in trying to escape; the figure attempts to push back against the encroaching inevitability of a hopeless future."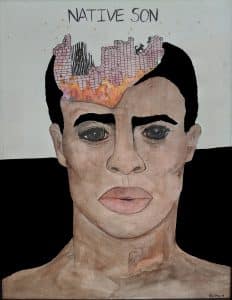 Chloe Strauss
Chapel Hill, NC
"Attempting to depict how our thoughts and fears predict our future, we see inside Bigger's mind. As what society expects of him begins to manifest, Bigger is left to himself to solidify his fate."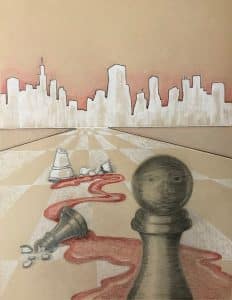 Judy Donovan
Carrboro, NC
"Despair shadows Bigger's face as he stands on the edge—half a man—in the blood of the women he murdered. Chicago gleams white in the distance, but the pervasive violence rises red like a sun's dawning. The game isn't fair or equal, and Bigger is only a black pawn."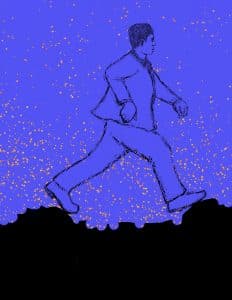 Scott Howell
Hillborough, NC
"When Bigger tries to escape over roof tops he clings to the idea of a beautiful life, the stars are out, free and bold, but his freedom is about to end and his time is short."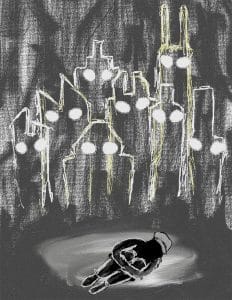 Zaza Jane
Durham, NC
"Chicago skyline
Watching Bigger as he hides
There is no escape
A haiku from someone who looks like a Mary Dalton and feels like she has no business submitting an artwork to represent Wright's novel yet is still compelled to because of the effect the book had on her when she read it in high school."
"I feel that I have effectively captured the essence of the novel Native Son by showing Bigger Thomas's struggle through a segregated south and depicting the events that have made him into a violent man. He is a "native son" of the events that surround him."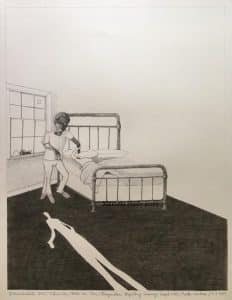 Marcela Slade
Carrboro, NC
"This pencil drawing reflects the moment Mrs. Dalton, a blind white woman, enters her daughter Mary's bedroom where Bigger, a black man, has carried Mary to her bed after being too drunk to walk herself. Frightened Mrs. Dalton will sense him, he silences Mary by pressing a pillow into her face and accidentally kills her."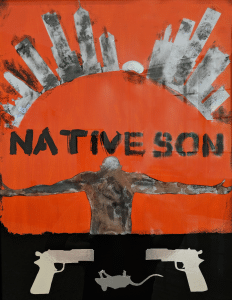 Libby Fosso
Chapel Hill
Each of these pieces will be on display in the PlayMakers Lobby through September 21. The artwork will then be moved and installed at the Chapel Hill Public Library for Banned Books Week, September 22-28.
Native Son is onstage September 11–29. Get your tickets to PlayMaker's electric new adaptation by Nambi E. Kelley here.