Centered around pirates and magic, Peter and the Starcatcher is a fast-paced production, giving actors the joy, and responsibility, of alternating rapidly between multiple characters. While some characters need little or no physical change, others require complete transformation. "This type of play is very much like doing a musical—once the music starts there's little room for variation. The entire design team must create a world for the play that will enhance speed and fluidity," explains costume designer Holly Poe Durbin.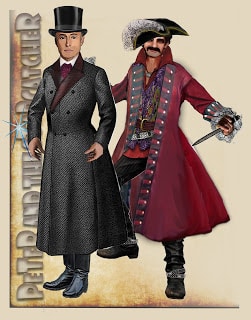 Holly says her start, working on ensemble pieces for the pre-Broadway production of
Angels in America
and an early version of
The Kentucky Cycle
, taught her about story structure and dramatic intent, which helped with this production. The design process starts before the roles are even cast. "The director (
Brendon Fox
), actors and costume designer collaborate to make the thousand small decisions that bring each character to life," says Holly.
She starts by sorting through which characters are fully formed and dynamic, and which are portrayed in a partial way as fleeting momentary characters.
The design team spent hours creating a storyboard for the show with Brendon.
"Together we started forming rules about the world such as equating "star stuff," a magical substance, with light. Any character encountering it will have shiny surfaces or light qualities to their costumes. Another rule we established is identifying each moment by interpreting whose point of view we are seeing through."
After discussing these things at length with the entire team, Holly was able to put pencil to paper and begin to actually design the costumes. Her design process is broken into three steps. Holly began by doing a lot of research, which included reading the Peter and the Starcatchers books and the original Peter Pan stories. She collected images that inspire her, then curated those images into mood boards for specific characters.
Then, Holly created pencil sketches used to bounce ideas around with Brendon. In some cases the sketches changed several times, as artists changed their ideas and Holly redesigned the characters. This phase wrapped up when casting began so Holly could work with each actor's approach and add it into the mix.
The final step was when sketches went to the PlayMakers costume shop for brainstorming with the costume team. At this stage, Holly worked with the team to solve any challenges that arose.
"It takes a large pool of specialists to create a show like Peter. PlayMakers has a spectacular reputation for being able to create a top notch stage vision and I was very excited to know I was coming here to do Peter and the Starcatcher."
Come and enjoy Peter and the Starcatcher. Onstage through December 12.
Click here or call our Box Office at 919.962.7529 for tickets.