"What made me want to direct this show? Its huge HEART and amazing MUSIC."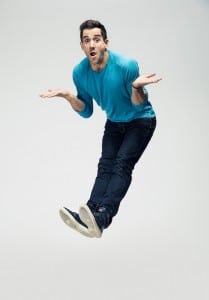 Violet came to Broadway in 2014 with an acclaimed performance by rising musical diva Sutton Foster, director/choreographer Matthew Steffens was working on his own award-winning production just down the street, the Off-Broadway immersive show Queen of the Night (Drama Desk Award for Unique Theatrical Experience). Being a tad busy he wasn't able to see Violet then to check out what the buzz was all about. However, he did get to hear the powerhouse score incorporating musical styles from country, pop and Memphis blues to honky-tonk, 60s rock, bluegrass and even some gospel and musical theater. He knew it was something special.
Based on the short story "The Ugliest Pilgrim" by late North Carolina author and beloved UNC professor of English Doris Betts, Violet is the tale of a disfigured young woman who sets out on her own traveling by bus through the Deep South of 1964. Heading from her home in Spruce Pine, North Carolina all the way to Tulsa, Oklahoma, she's in search of an evangelical TV preacher, hoping that his healing touch will remove her scar and transform her life. But Matt says Violet is so much more.
"It's really all about inner beauty, courage and love. This show is fun, moving, uplifting and inspires us to live life to the fullest."
This is Matt's third time working with SYC, having choreographed/associate directed two of the program's most popular shows, Hairspray and Guys & Dolls. Now Matt is in the director's chair bringing his vision to the production, and since he never saw or worked on Violet, he has the opportunity to bring "fresh eyes" and a totally new approach to the project.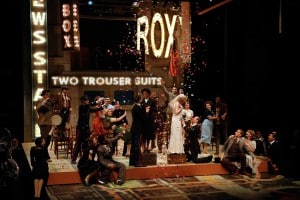 Guys & Dolls, SYC 2015. Photo by Jon Gardiner.
An international director, choreographer and performer, Matt most recently served as associate director/choreographer for Off-Broadway's Bountiful: A Teacher's Journey (also receiving rave reviews for his performance). He was associate choreographer for the Broadway musical version of Doctor Zhivago and has appeared on the Great White Way himself in Women on the Verge of a Nervous Breakdown and Promises, Promises. Matt has also danced, fought and flown his way through 12 operas with New York's Metropolitan Opera.
One more thing drew Matt to this SYC production. "It gives me the opportunity to work for the third year with the talented Ainsley Seiger, who knocked us out as Miss Adelaide in last year's Guys & Dolls. Ainsley just won Best Actress in the Triangle Rising Star Awards going on to perform on Broadway in the national competition. It isn't often your lead comes straight from Broadway one night to rehearse back in Chapel Hill the next day! I think Ainsley and this amazingly talented cast are going to surprise and wow audiences with this fabulous production. We're only five days into rehearsal and it already has so much heart. You're gonna, laugh, you're gonna cry, and leave the theater tapping your feet!"
Ready to be inspired? Join us as Violet takes the stage July 20-31.
Click here for tickets or call our Box Office at 919.962.7529.