Vivienne Benesch is drawing raves with her directorial debut as PlayMakers' Producing Artistic Director, a critically-acclaimed look at Anton Chekhov's timeless classic Three Sisters. See what the reviewers have to say about her staging based on Libby Appel's new adaptation.
Marinda Anderson as Olga and Allison Altman as Irina. Photo by Jon Gardiner.
The News & Observer
"a boldly fresh approach … breezily engaging"
"allows easy access to Chekhov's astute examination of the human condition"
INDY Week
"a striking, sometimes shattering , production"
"A socially conscious creator, [Benesch] is clearly interested in gender roles, the life of the underclass, and the fate of a society that has devalued manual labor."
CVNC
"A beautiful tapestry of characters was woven together with an existential brush that PRC handled superbly; the company presented the play with infectious vitality and panache. Three Sisters has opened PRC's 2016 with a wondrous escape into another time, and we could not help but be captivated."
"Libby Appel gives us a fresh and dynamic translation that brings these characters to vivid life"
"a magnificent ensemble cast'
The Five Points Star
"beautifully directed in an elegant new version"
"seamless ensemble work … acute characterizations"
"if you are new to Chekhov, this would be a marvelous introduction; for the repeat viewer, it may in some ways be a revelation"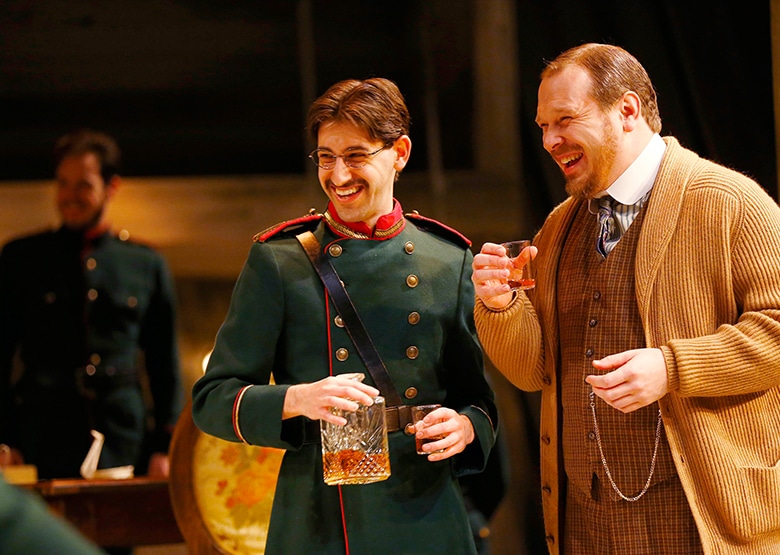 Daniel Bailin as Nikolai and Benjamin Curns as Andrei. Photo by Jon Gardiner.
Triangle Arts & Entertainment
"masterfully directed"
"all of the acting is superb!"
The Daily Tar Heel
"PlayMakers' 'Three Sisters' honors Chekhov with an adapted script"
Experience this captivating play for yourself. Three Sisters is onstage through Feb 7.
Click here for tickets, or call our Box Office at 919.962.7529.