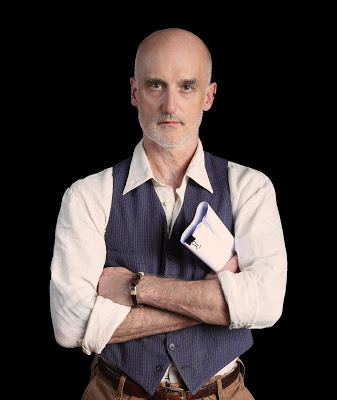 Ray Dooley as Leonard
In Seminar, Ray Dooley plays the ruthless and frank character of Leonard, a writer/editor who conducts private seminars with young writers looking for both expert criticism and connections to the field of publishing. "Leonard's brain moves so quickly that one sentence can last the better part of a minute. His mind is continually turning over new images and thoughts, and new thoughts are pushing the previous thought out of the way as he strives to make his point the most effective way he can," says Ray, describing how Leonard's grammar is connective and that learning it requires intuitive leaps, one of the largest challenges of playing the role.
With a cast of five, the play "adheres to the unities of time, space and action" more closely than some other productions. The scenes lead to a final showdown, which creates a tighter and smaller canvas. Leonard is moving on a straight line towards an climactic encounter, which is easier to get one's mind around, "but just as a sonata or a quartet, it's not necessarily easier to play." Ray says that although it's different, it's more focused, and in some ways more demanding.
Through a series of metaphorical exercises led by director Michael Dove, Ray was able to uncover the underpinnings of each scene and the skeleton beneath the surface which provided structure to the action.
"Near the end of the play, I have a long speech where I am including one of the young writers in a pointed and emphatic critique of his life, my life and the writing profession. Myles [Bullock], the actor playing the young writer, in order to 'protect' himself, started building a wall around me with chairs. It became that he was putting me in a prison so that I couldn't get to him with my critique and attack. At the end of the speech, what happens in the play is that my character leaves his character in a very exposed and bleak position. As I got near the end of that speech, I walked around, took him by the hand, walked him into the prison he had created, and as I finished the speech, I close the door on him. We had a visual metaphor of what my character had, in essence, done to his character, leaving him locked in a prison of his own creation. It was a beautiful visualization of that moment."
The four actors playing the writing students in PlayMakers' production are actually Ray's students in UNC's Professional Actor Training Program. "There's always extra pressure when you are working without a net with your own students." He describes the pressure to practice what he preaches, as they can see whether or not he's applying the things taught in the studio. "It's also a great joy when I see these early career professionals doing so well," says Ray.
When creating the wardrobe for Leonard, Ray and Jade Bettin, costume designer for Seminar, drew closely from real life models. "There's an actor in New York I admire greatly, who has some similarities to Leonard." To some degree, they based the wardrobe on that real life person's clothing choices, found in professional and candid photos. "When an actor is building belief in a character, it's a great help to know that these are looks that actually work in real life." The duo also considered where Leonard had just come from and where he is going. In doing that, Ray is able to build a backstory for the earlier portion of the day, which may or may not have gone well.
In terms of set, scenic designer Robin Vest has built a sunken living room downstage, close to the audience, where the first two seminar sessions take place. This allows for a more personal, intimate setting, whereas if the play were upstage, "we would have to try to open it out to the audience, almost as if we were playing in a proscenium house, and probably not able to play quite so intimately." Ray says that playing downstage allows the cast to "paint with fine brushes" rather than having to be sure the audience can hear and see them, allowing the cast more flexibility.
Ray feels it has been a rare privilege to be a part of PlayMakers for so long. Being at PlayMakers is the job Ray says he trained for in the 1970s at the American Conservatory Theatre in San Francisco. "Among the greatest joys are my colleagues." Ray describes the role of Leonard as a parting gift from former Producing Artistic Director Joseph Haj and calls working with director Michael Dove "a joy." "It's an extraordinary company of people, and in many ways, a family. We have become the fabric of each other's lives and it shows in the work on stage."
"I certainly get inspiration from the audience here; the audience and I have a 26-year relationship now-and that's a great privilege. I try to live up to that every time I step on stage and try to live up to the responsibility and the implicit promise every time."
– Ray Dooley
Seminar takes the stage October 14th through November 1st.
Click here or call our Box Office at 919-962-7529 for tickets.