The Rotating Repertory
Our rotating repertory alternates two shows on the same stage in one production period, in order to spark more conversation together than they would apart. Though different in period, style, form and content, both
The Christians
and
Tartuffe
share an exciting subversiveness in their investigation of religion and questions of faith & following.
Automatically save 25% when you buy tickets to both shows.*
#RepTheRep today!
---
Adapted by David Ball
Directed by Saheem Ali
a comedy of religious proportions
For generations, theatre's most "devout" con man has been hoodwinking theatre audiences to uproarious effect.
REGIONAL PREMIERE ADAPTATION
"glorious from the first scene"
NY Times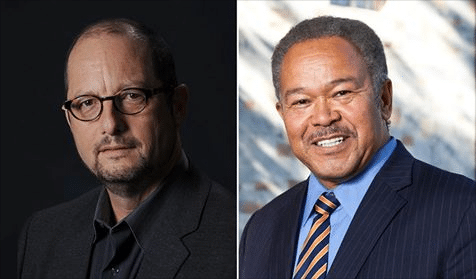 SPECIAL EVENT—Faith in Our Lives: Why We Follow
March 10 @ 4:00pm
Join us at a FREE panel discussion in the Kenan Theatre between two national luminaries in the world of religious scholars:
• Dr. Robert Franklin, former President of Morehouse College and Director of the Religion Program at The Chautauqua Institution, alongside
• Dr. Bart Ehrman, national best-selling author and Religious Studies professor at UNC-Chapel Hill.
• Adam Versényi, moderator, is the Chair of UNC's Department of Dramatic Art and Dramaturg for PlayMakers Repertory Company. He is also a theatre scholar, dramaturg, critic, translator, director, and author.
Dr. Franklin and Dr. Ehrman will engage with audiences and explore how faith and belief serve us both personally and collectively, as well as what may be risk when doctrine plays too little or too large a role in our lives.



TICKETS AND SHOWTIMES
MON

TUE

WED

THU

FRI

SAT

SUN

FEB 1

FEB 2

FEB 3

7:30p
Tartuffe

P

FEB 4

FEB 5

FEB 6

FEB 7

FEB 8

FEB 9

FEB 10

FEB 11

FEB 12

FEB 13

FEB 14

FEB 15

FEB 16

FEB 17

FEB 18

FEB 19

FEB 20

FEB 21

FEB 22

FEB 23

FEB 24

FEB 25

FEB 26

FEB 27

FEB 28

MAR 1

MAR 2

MAR 3

MAR 4

MAR 5

MAR 6

MAR 7

MAR 8

MAR 9

MAR 10

MAR 11
Media
Jan 18 2018
Producing two plays on the same stage at the same time certainly involves a whole lot of craziness. Still, we've got 5 reasons we love a rep.
Jan 9 2018
The rotating repertory—two shows running in rotation over a the same six-week period—is a PlayMakers tradition seasons in the making. It takes creative thinking, careful planning, and enormous amounts of time to pull it off.
Jan 4 2018
It's happened to all of us. Upon hearing where we work, new acquaintances often ask, "PlayMakers Repertory Company, huh? What does that mean?" Well, really, it's all in the name.
Jan 28 2018
Roy C. Dix, Triangle Today
PlayMakers Repertory Company's double bill alternates Lucas Hnath's 2015 play about a mega-church pastor's sudden change in his beliefs and Moliere's 1664 comedy "Tartuffe," in which a seemingly pious man's hypocrisy is exposed.
*Discount automatically applied when tickets to both shows are added to cart. Not valid for Section C, community night, or previously purchased tickets.↑