by William Shakespeare
Directed by Tia James
Streaming January 8–21, 2022
A blues-infused reinvention of the Forest of Arden
Company member and consummate Shakespearean Tia James takes the helm for one of the Bard's most hilarious comedies. This riotous combination of love at first sight, feisty cross-dressing heroines, and a parade of foolish lovers, combined with bluesy music and hilariously-questionable poetry is bound to bring the laughs.
This production has been filmed as a theatre-film hybrid.
Run time: 2 hours, 16 minutes
How to Stream
Patrons can stream this production unlimited times, on-demand from January 8 until 11:59pm on Friday, January 21, 2022. For more details on how to stream, click here.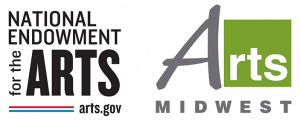 The National Endowment for the Arts in partnership with Arts Midwest presents Shakespeare in American Communities. PlayMakers Repertory Company is one of 40 professional theater companies across the nation selected to perform a Shakespeare play with a professional team of actors for middle- and high-schools and conduct related educational activities for students.