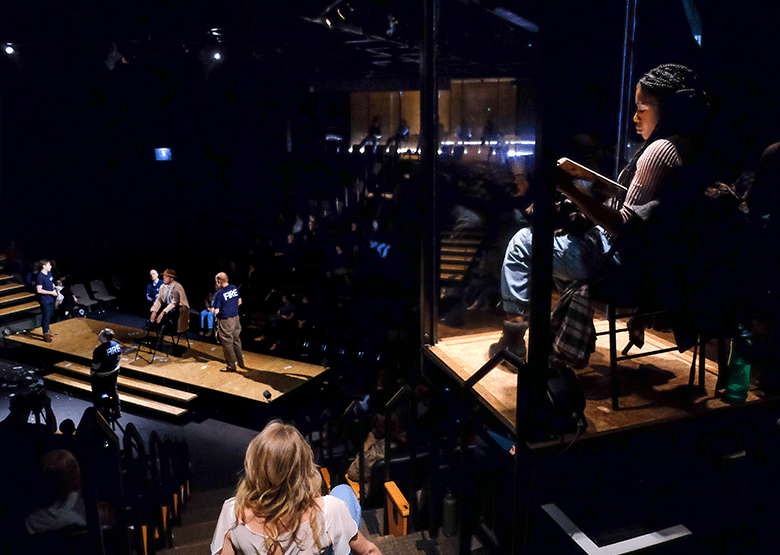 Director Zi Alikhan's re-imagining of the anthem-filled classic Ragtime deconstructs the musical in a new way, causing it to literally unfold itself throughout the entire Paul Green Theatre. With the help of PlayMakers' tremendously-skilled production team, Tony-nominated scenic designer Mark Wendland has turned our usual thrust space into an actor's playground of wood and steel, surrounding and intersecting the audience in surprising new ways.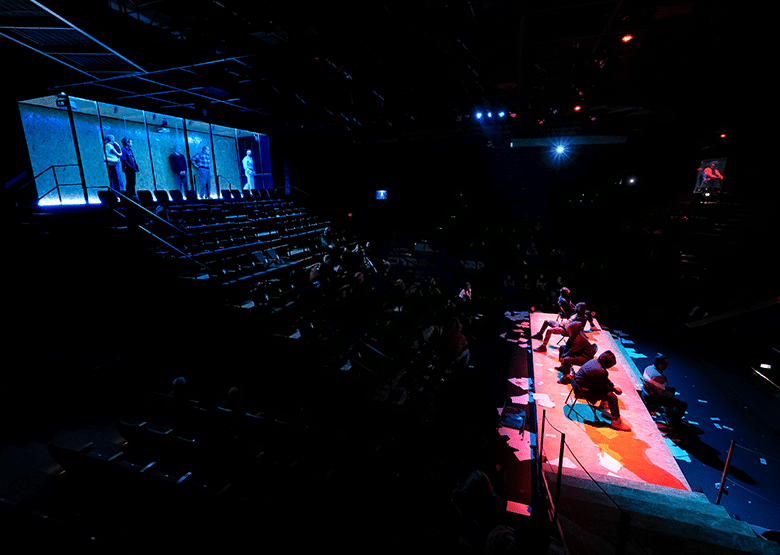 As you might suspect, different seats offer different views and highlights. Here, we break down the advantages of four potential locations so you can purchase the best ticket for you. No matter where you sit, you'll be seeing some combination of backs and faces. You may even be handed a prop or two! Embrace your experience—whatever it may look like—and lean forward in your seat!
HARLEM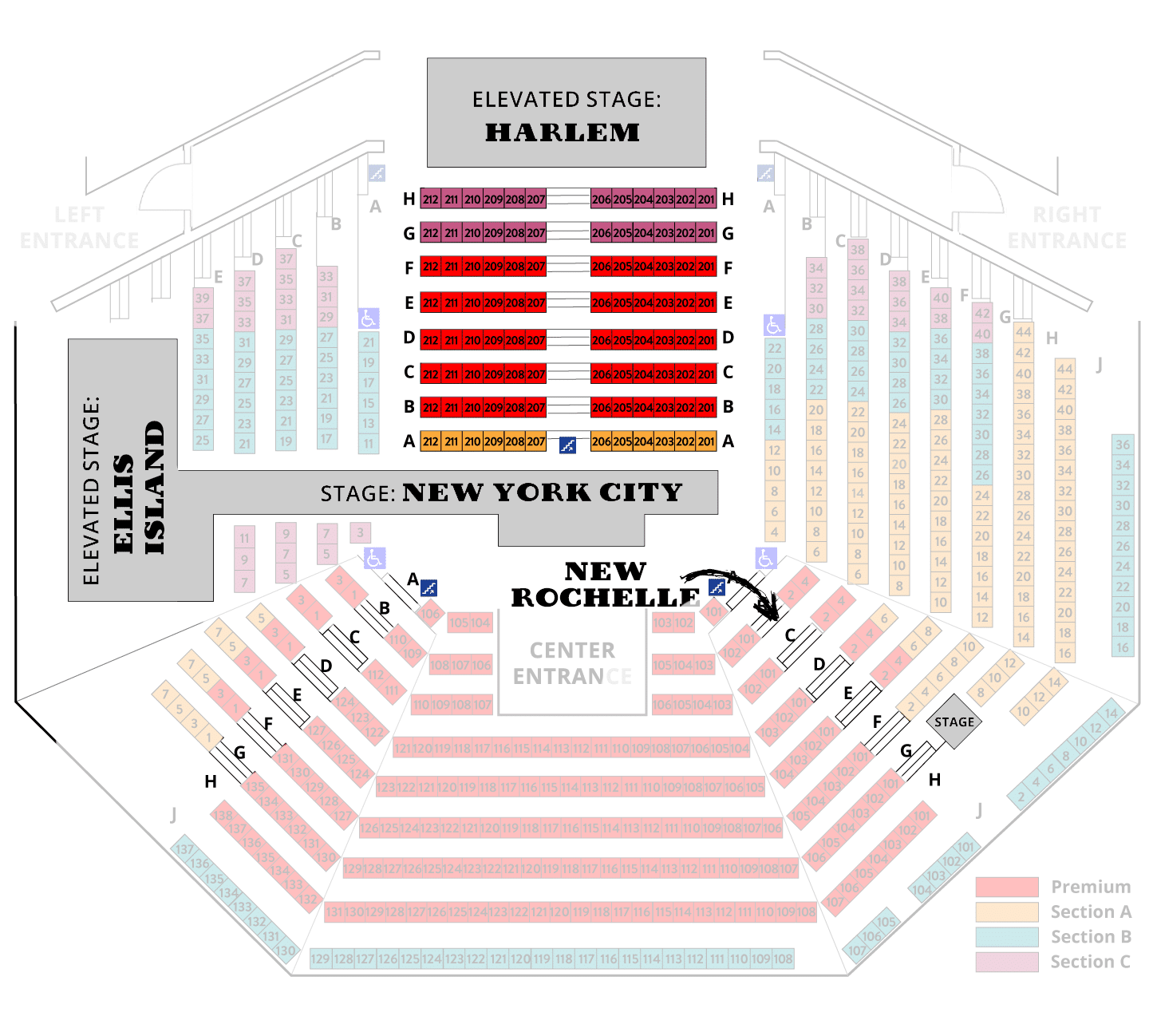 Situated where you normally see our stage is a new bank of seating constructed by our top-notch scene shop. Some of the cast will sit among you and the plexiglass box above and behind you serves as a "holding area" for the Harlem Ensemble. The 8-piece band is nestled right behind the risers, so this is the place to sit if you're into the rumble of the bass and like to feel the drum set in your chest. Along with the Harlem Ensemble, you feel very "in the middle" of changing times, with the best view of the Ellis Island and New Rochelle action.
Highlights:
During the "Gettin' Ready Rag," Coalhouse and the Harlem Ensemble dance up and down the aisle; in Act II, you get the best view of director Zi Alikhan's unique take on "What a Game," when the Harlem Ensemble only takes up the lines that apply to their revolutionary state of mind.
Best for:
This is THE place to be if you want to feel a part of the show. If you are especially in it for Mother's incredible anthems "What Kind of Woman?" and "Back to Before," Harlem is where it's at. Plus an unrivaled closeness to the action and those sweet, sweet harmonies in "Journey On."
HOT TIP:
Sit in E206 or E207 to get up close and personal with Evelyn Nesbitt and Harry Houdini.
ELLIS ISLAND
While the seat map makes it look like you're tucked away in the "corner" of house left, sitting with the Ellis Island Ensemble actually gives you more of a view than you might anticipate. You get the jump on the rest of the audience as a lot of entrances happen right in front of you. And if you're ready to climb aboard the rag ship (metaphorically, please!), Tateh will take you right along on his journey to America and through the American Dream with his little daughter.
Highlights:
Glitter Houdini working his magic in front of your eyes, the rush of humanity as ship after ship of optimistic immigrants arrive during "A Shtetl is Amerike," plus a perfect view of Tateh's most charming number, "Gliding."
Best for:
Backstage Johnnies who love to see how it all comes together and lovers of "Your Daddy's Son"—this is the only part of the audience with a direct sightline for Sarah's barn-burner.
HOT TIP:
Sit A15 or A17 for a special pre-show experience.
NEW ROCHELLE LEFT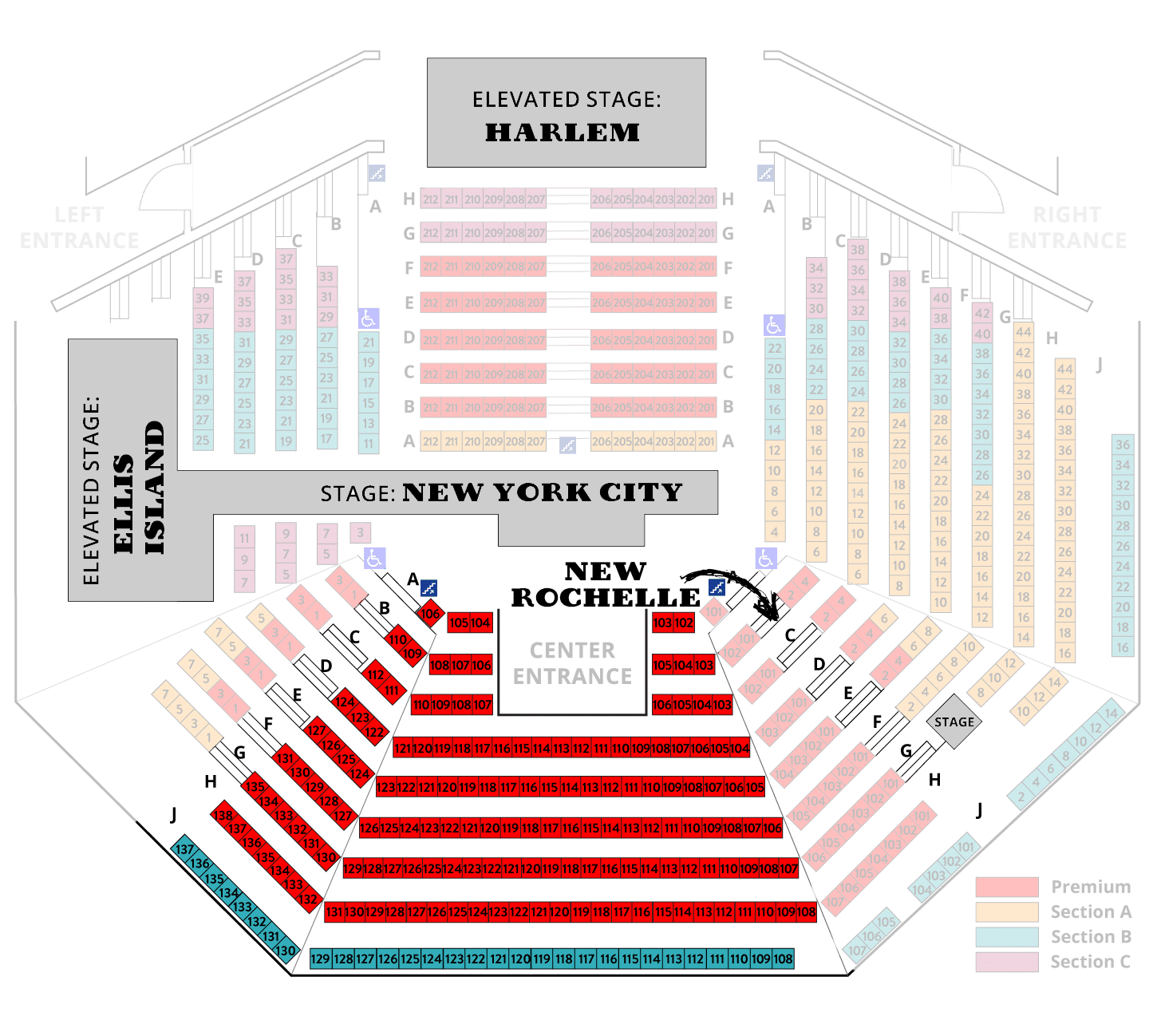 Sit with the upper crust in the premium section, where the show is less immersive, but you have your pick of the action to pay attention to. What are the folks in Harlem up to while Mother and Father are saying their goodbyes on the pier? You can easily find out. The nearer you are to the stairs, the closer you'll feel to the Ellis Island action and Father's journey to the arctic.
Highlights:
Emma Goldman's various speeches, Mother signs "Goodbye, My Love" right at you, a full view of Sarah's descent to Coalhouse at the end of "New Music," plus, you get the fullest picture of the Act II stand-off between the Mayor, J.P. Morgan, Emma Goldman, and Coalhouse.
Best for:
Those who prefer a more typical theatrical experience, those who have mobility or hearing issues, and Julia Gibson fans.
HOT TIP:
Sit in H138 for an interactive moment with Admiral Perry.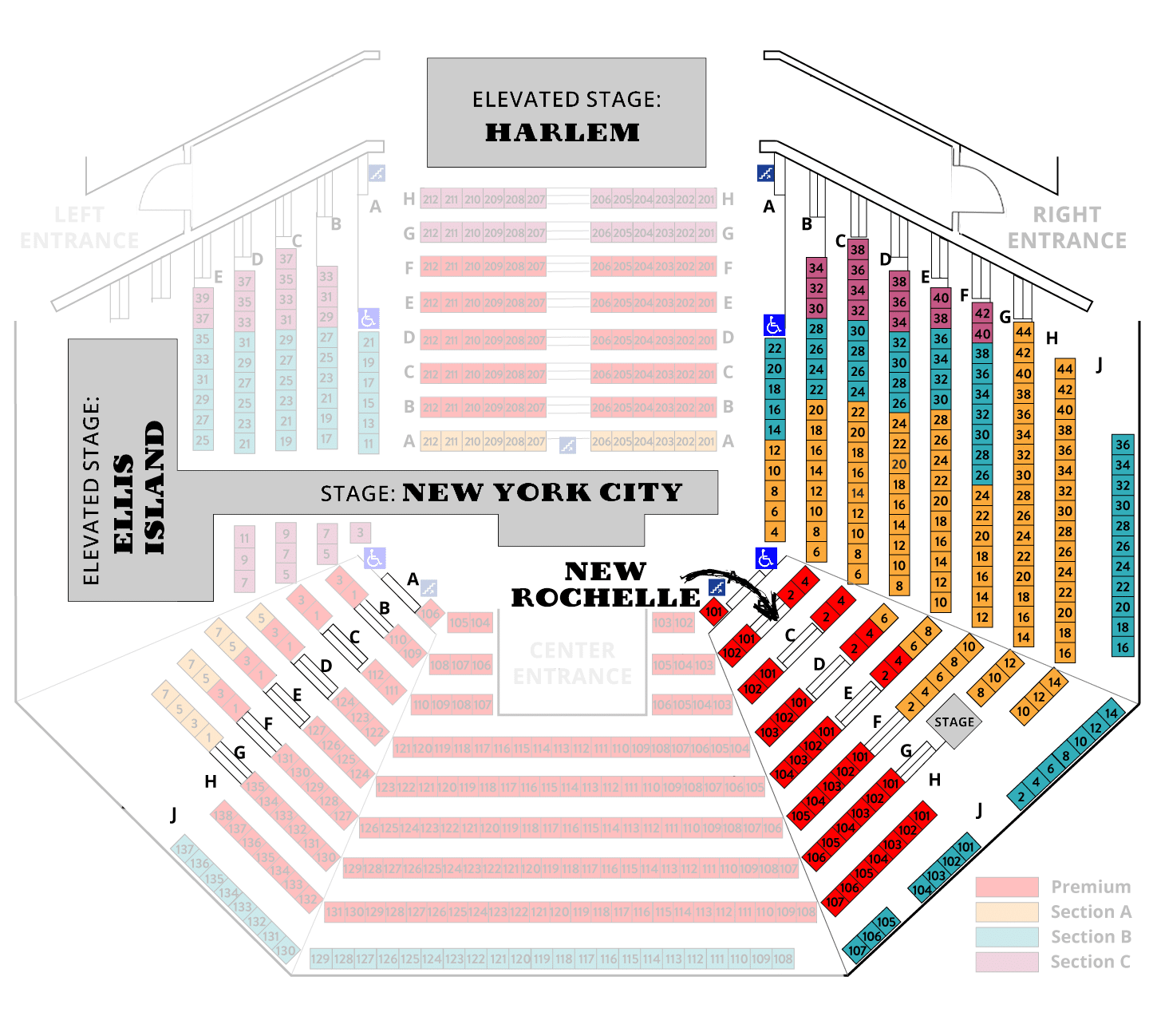 NEW ROCHELLE RIGHT
In this 360° production, house right may just be the true pivot point. With Sarah's attic room to your left, Ellis Island across the way, Harlem just off to your right, and the main playing space right in front of you, you're guaranteed not to miss a moment of the action.
Highlights:
You won't be able to take your eyes of Coalhouse and Mother as Sarah descends to Coalhouse at the end of "New Music," some beautiful images wrought in light and shadow with the cyc lights at various moments throughout the show—including "Journey On" and Coalhouse's surrender, plus "What A Game" plays directly to you.
Best for:
Those who don't want to miss a moment of the action ever.
HOT TIP:
Sit in F2 or F101 to be serenaded by Mother with a little "New Music."
Get your tickets to Ragtime before your favorite seat is taken! Must close Sunday, December 15!