Hi everyone! My name is Lili Whittier and I play Young Vi in PlayMakers Summer Youth Conservatory production of Violet. I've been involved in Summer Youth Conservatory productions for the past 3 summers, and I can say without hesitation that taking part has been one of the best decisions I've made. In 2014, I played Penny Pingleton in PRC's Hairspray. The following year, I played a Hot Box nightclub girl in Guys & Dolls. Having been both a lead role and an ensemble role has pushed and challenged me in ways that I believe have led to me being a much more well-rounded performer.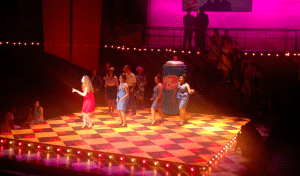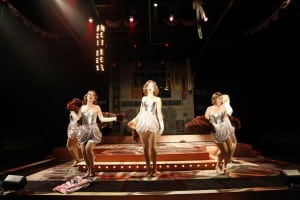 Lili in 2014's Hairspray (left; photo by Matt Steffens) and 2015's Guys & Dolls (right; photo by Jon Gardiner)
I think the biggest difference between doing ensemble work and being a lead is how much of your process you have to take charge of. Both are valuable and challenging, but I think ensemble work is a far more involved process. When you have a lead role, a lot of your time is spent being given blocking and running scenes. Your choices are more informed by the information your director gives you. As an ensemble member, you have to make many of those choices by yourself. Matt [director Matthew Steffens] often says: "Just make a choice. Doesn't matter if it's a bad one, just make one." By saying this, Matt gives us creative freedom to choose who our characters are. What's important as an ensemble member is truly knowing who your character is. What their name is, where they were born, who their parents are, what they want. This element is important for every character in Violet, as everyone is on their own journey. For the show to be convincing, our choices must be strong and driven by intention.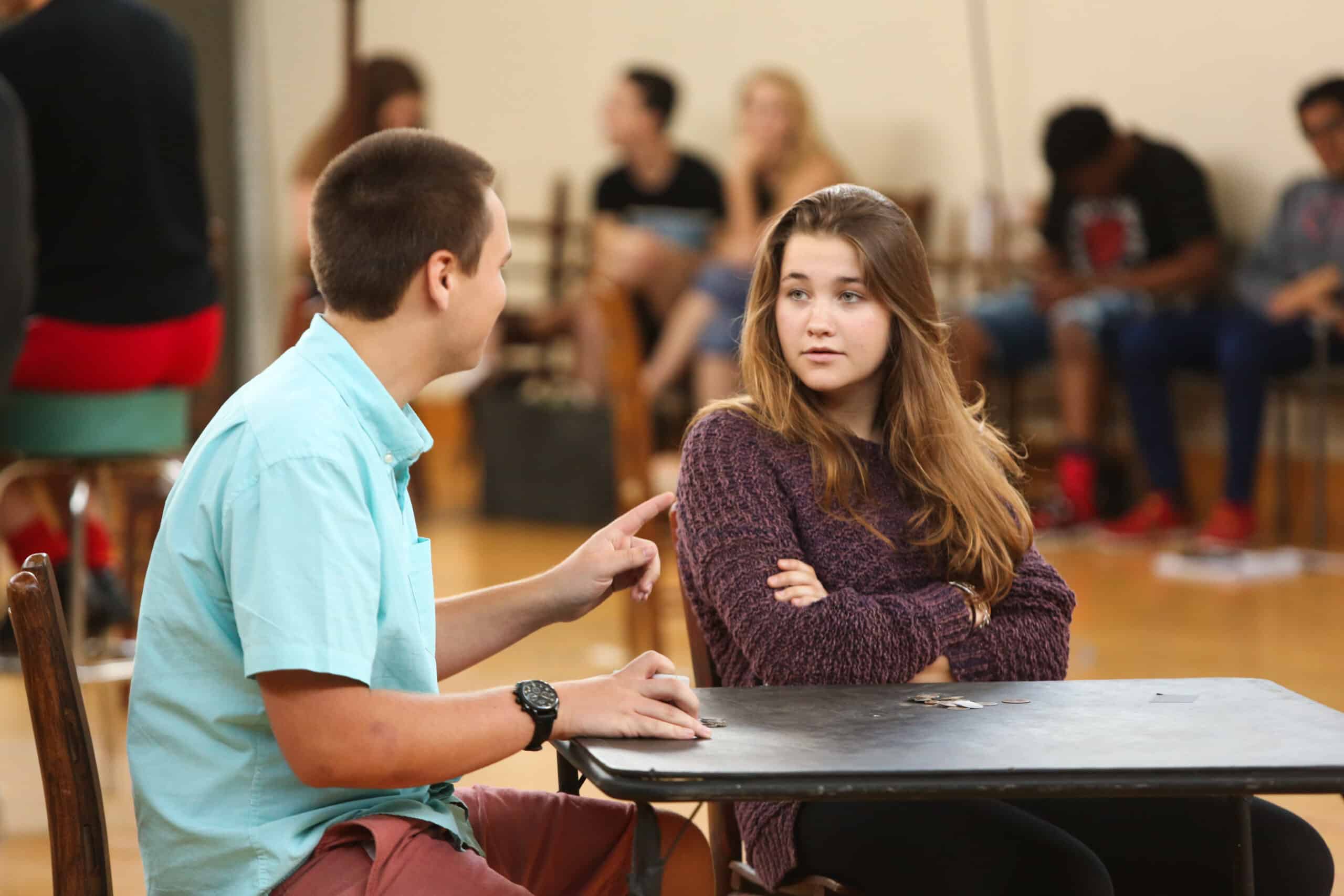 Lili in rehearsal for Violet, photo by Huth Photo
Every year that I've done this program has taught me something different, and I am beyond grateful for that. What I love about this program is how real it feels. Even though all of us are in high school, the production team treats us like professionals, and expects us to conduct ourselves as professionals. This atmosphere of mutual respect and trust has been present every summer.
Beyond contributing to my growth as an actor, my years at SYC have given me the people I consider to be my closest friends. The environment of the program creates a very unique and special bond. Actually, one of my good friends, Rachel Musson, came back this year as an intern. It's been so incredible to spend time with her again. It feels like we picked up right where we left off, even though we haven't seen each other for two years. That is an incredible feeling, and one I feel applies to every friendship I've built during SYC. Something about a group of people working together to create art forges bonds like no other.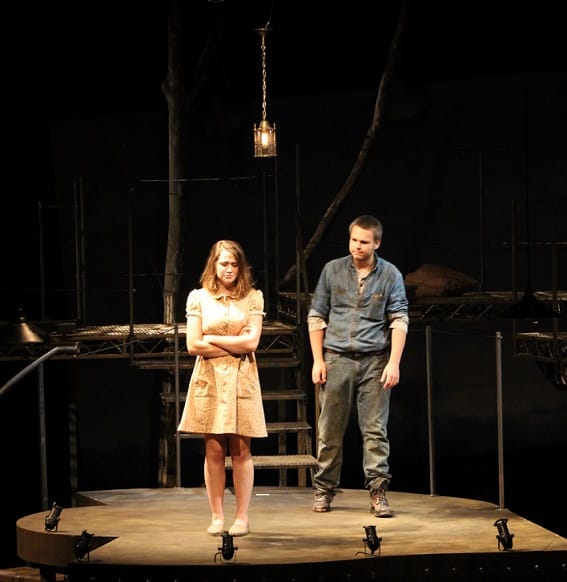 Lili with Connor Lewis in Violet, photo by Laura Pates
This year we have a lot of people who are new to the program, and I've loved watching them make connections with each other. Everyone I've met here has been open-minded, creative, passionate, and kind. Everyone is so dedicated to each show, which is why the caliber of SYC shows often surprises people.
I have loved working on this show. The combined efforts of everyone involved has inspired me to no end. I would definitely recommend checking it out!
Don't delay – check out Violet!
Just three more shows, July 29-31. Click here or call 919.962.7529 for tickets.