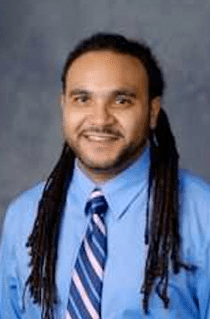 G Clausen is making his debut at PlayMakers as sound designer for Dominique Morisseau's Skeleton Crew. A visiting faculty member from UNC School of the Arts with an extensive musical history, Clausen worked meticulously to find the perfect sounds of Detroit factory life.
While Clausen was not PlayMakers' first choice for sound designer, he knew he couldn't turn down the opportunity when his mentor Bruno Louchouarn had to pass on the project for health reasons. Bruno was a dear collaborator here at PlayMakers and while we grieve at his recent passing, we were excited to work with someone who came so highly recommended by Bruno himself.
"As soon as I read it, I knew I would do it."
G Clausen, sound designer
For Clausen, most of his work has revolved around bringing the feeling of 2008 Detroit to the stage through popular music and the sounds of factory machines. "I don't get to use hip-hop in a lot of shows, and I'm a hip-hop kid. So, this was opportunity to just go full out. And I embraced it," Clausen said. Most of the music—aside from the factory sounds, an Aretha Franklin song, and a few other miscellaneous tracks—come from hip-hop producer J Dilla. "After Motown, it's probably the most identifiable Detroit sound you have."
The factory sounds, however, play an important role in both the production's underlying significance and Clausen's work. "For me, the humming of the machines represent cohesion as workers contribute to the product in harmony," Clausen said. "When there are breakdowns, glitches happen and it is not smooth, but out of sync." Shanita's character in particular interprets the factory sounds as music, comforted by the rhythm of the machines she works with.
"This machine can literally and figuratively chew us up and spit us out."
Clausen curated most the production's playlist by listening to and analyzing some 200-500 songs to match each emotion and action to a sound or beat. According to Clausen, this comes after deeply analyzing the script and looking for opportunities to underscore or add sound to transitions. Clausen said he even came to view the set early to determine if the materials on the set would affect the music, as some materials can either absorb sound or cause the sound to reverberate throughout the room.
When working on the production, Clausen also got the opportunity to research and listen to artists like Aretha Franklin, Aaliyah, and others that he was already familiar with and liked.
"The best part about my job is doing research for artists from the time and/or place."
However, there's more than the music Skeleton Crew that Clausen has a personal connection to.
"I have friends from Detroit that I went to undergrad with. The DJ of my hip-hop group was from Detroit," Clausen said. "Their families are connected to the automotive industry, and when 2008 hit, everybody's lives changed right then."
Clausen has also mentioned that he relates to almost every character in the production; he sees his younger self in Dez, relates his role as father to Reggie's role in the factory, and has even been homeless himself like Faye. "It's kinda personal to me," Clausen says.
Hear some of the music that inspired Clausen's work by listening to the playlist below!
CONTENT WARNING: Contains some explicit language.
Catch all the beats in Dominique Morisseau's Skeleton Crew , on stage October 10-28.