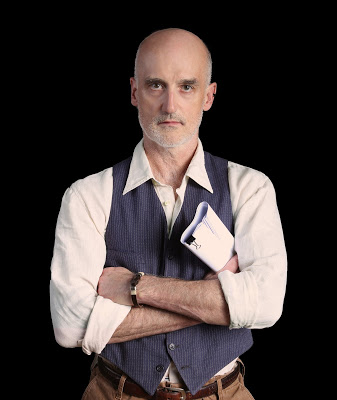 In honor of beloved PlayMakers company member Ray Dooley's 100th production, Dairyland, we asked former long-time News & Observer theater critic, Roy C. Dicks, to interview Ray about his three decades with the company.
I've had the privilege of seeing Ray Dooley's work on the PlayMakers stage since his initial season with the company," Dicks said. "My first encounter with his talents was his comical would-be lover, Sir Lucius, in 1990's The Rivals and my latest was his chilling Cardinal Inquisitor in Life of Galileo in March 2019. In between those two, I've marveled at the wide range of characters he can inhabit, from his moving Older Tom in The Glass Menagerie and lovable Colonel Pickering in My Fair Lady to his brooding Astrov in Uncle Vanya and hilarious Malvolio in Twelfth Night, among so many others.
Q: How did you become connected with PlayMakers?
A: After graduating from Hamilton College in 1975 with degrees in English and in Theatre, I auditioned and was accepted to graduate school at the American Conservatory Theater in San Francisco. Back then, the regional theatre movement was beginning to take hold and the assumption was that most large cities would support a repertory theatre. But by the 1980s, it was clear that was not going to be the case. So, after my training, I spent 15 years as a freelance actor. Then, in 1989, after a year and a half with the Alabama Shakespeare Festival, I was preparing to go back to New York. David Hammond, my teacher back in San Francisco and PlayMakers artistic director at the time, suggested I come do a season here. So I drove from Alabama to Chapel Hill in August 1989, joined the company, and never left.
Q: How many of your goals as a beginning professional actor have been met in here with PlayMakers?
A: When I was in training, it was my hope to be a member of a repertory company. Now these past 30 years have fulfilled that goal. I can't think of a more rewarding or more meaningful life to have had, given my hopes, training, and abilities. It's meant being able to do a wide range of roles I wouldn't likely have had the opportunity to do as a freelance actor, where you are usually cast because of what you sound like, what you look like, and how old you are.
Ray Dooley as the storyteller in An Illiad (2012).
Q: In what roles here have you been the most satisfied with your work? I've seen 42 of your PlayMakers shows and my two favorites were eccentric Dorian in 2009's Opus and bitter Leonard in 2015's Seminar.
A: Yes, I'd count those as two of my favorites as well. I'd also include two PRC2 shows, 2011's A Number, playing the father of cloned sons, and 2012's An Iliad, the one-man retelling of Homer's epic poem. Of course, I'd have to mention playing the lead in 2006's Cyrano, and also Salieri in 2008's Amadeus, particularly the re-worked version with the N. C. Symphony in Raleigh in 2010.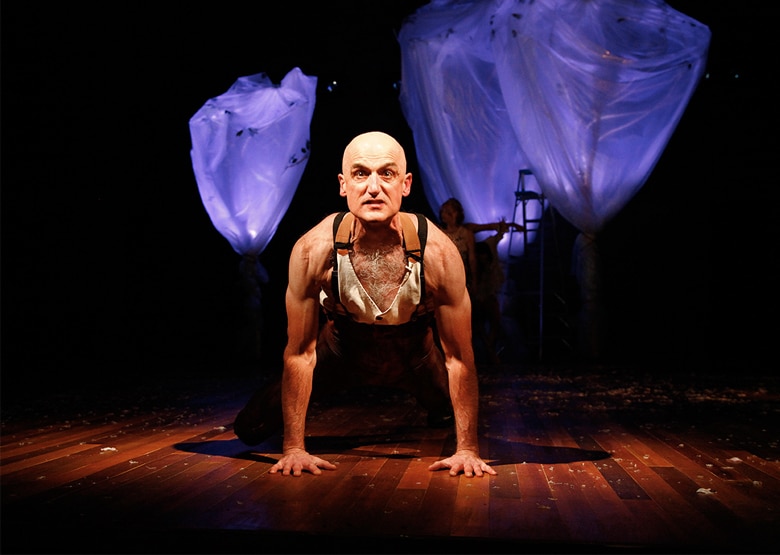 Ray Dooley as Puck in A Midsummer Night's Dream (2014).
Q: What role challenged you the most in terms of taking you outside your normal range?
A: I'd say it was Puck in A Midsummer Night's Dream, which is typically played by a young, sprightly person of small stature. Not being the usual type, I did some research about that folk character, leading me to John Milton's L'Allegro. In it, he characterizes Puck as a hairy being, large enough to stretch out the length of a fireplace. So I took that as permission to inhabit the role without trying to be something I'm not. I went from wondering how I could possibly do the part to really loving it every night.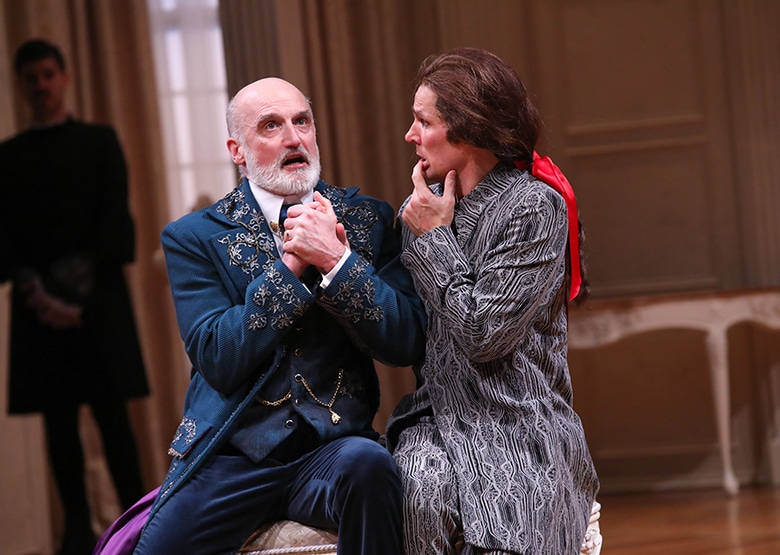 Ray Dooley in Tartuffe (2018).
Q: In Dairyland, you'll be originating a role in a world premiere. How do you approach creating a new character like that?
A: I play Henry, a dairy farmer in Wisconsin, so I've been doing research by watching YouTube videos about dairy farming and also by figuring out what background Henry might have. The play takes place in the present, so Henry would be about 70 years old. Did he serve in Vietnam? Did he suffer the devastating flood a year ago around Madison? An actor can bring these things to his characterization in an intuitive way, making existing lines in the script suddenly take on interesting specific meanings. The playwright might not have put them there but it's the actor's contribution to add a personalized belief in the character's life.
Q: How has teaching acting influenced you own performances?
A: I started teaching in 1990. Whenever you teach something, you learn more about it. I'm always searching for a vocabulary to describe the things that happen in acting. I've now found there are about a dozen principles that are always true and make the work more effective. When I go into the rehearsal hall, I have those truths to apply to my own work. In addition, my students may well work with me as fellow actors in a production, so my teaching is also in my doing, including modeling professional behavior and rehearsal techniques. Then we can go back into class and discuss scenes in the performances that weren't working well.
Q: What's left on your career wish list?
A: It's important to me to pass on the craft that I've learned. I've been thinking about putting together some thoughts on what my teaching is like now and which books or parts of books I've found particularly useful. I'd also like to do some more directing. But most important, I want to continue serving the audience, the playwrights, and the art form for as long as I can, which I hope is still quite a long time. There are some wonderful older characters out there I'd like the chance to play.
Roy C. Dicks was a performing arts critic with the Raleigh News & Observer from 1997 to 2018 and with the weekly Raleigh Spectator from 1978 to 2006. He currently writes reviews for CVNC.org. His reviews and other writings can be found on Twitter (@rcd811) and Facebook (Roy C. Dicks).
Don't miss out on the next big thing. Catch Dooley as Henry in the world premiere of the farm-to-table comedy, Dairyland, this fall. Only at PlayMakers! Get your tickets today.